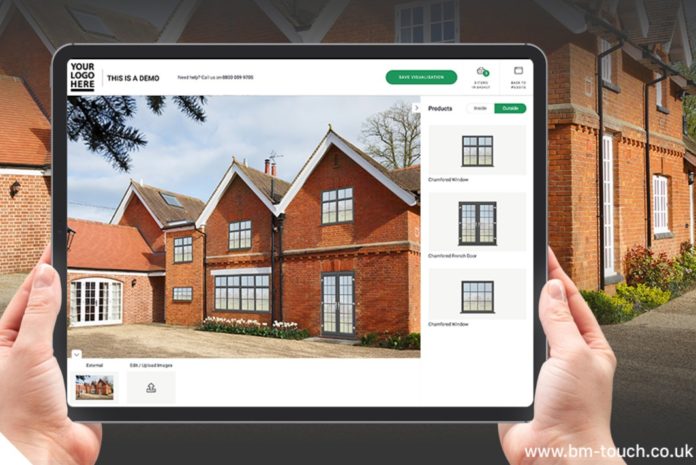 The development team behind Touch Vendor, a lead generation and quoting software from the Business Micros Group, has added an interactive visualiser tool, making it easier for homeowners to see how new windows and doors will look in their property. The Virtual Home tool allows users to see their window and door choices on every façade of the property – a feature the team claims most other visualisers on the market don't do. It also allows users to view the new products from the inside as well as externally.
The feature works just as well in quote and survey mode, the developers argue, as it does in lead generation mode. The virtual home tool adds an exciting new dimension to the software, edging customers closer towards making an enquiry or placing an order by providing a realistic picture of how their finished home could look.
Doors and windows processed using the Touch Vendor design tool can be superimposed onto any house image, and be manually positioned for an accurate result. Users can change the style and colour as many times as they like, and try out different looks before they buy.
The Virtual Home feature pops up automatically as soon as the user adds windows or doors to their virtual basket. They can upload as many property images as they like, and see how the products will look from the kerbside, the garden or even from the inside looking out.
In quote and survey mode, the Virtual Home feature automatically adds a PDF of the finished design to the quote, alongside the product details and price, ready to send to the customer. In lead generation mode, the feature adds the PDF to an enquiry acknowledgement that the customer receives and to the enquiry notification sent to the installer. All the installer has to do then is check the product choices and provide a price.
Paul Callaghan, director of Business Micros Group company, the Consultancy, which created Virtual Home in partnership with the Business Micros software development team, said: "We looked at the limitations of other visualisers on the market and used our experience and expertise to do something better. Touch Vendor users can view their property from front and back, from inside and out, and chop and change their design choices to see exactly what works best from different angles.
"We're confident that it will really help customers to complete more sales, with a really slick, efficient and professional looking offering – all the way from enquiry to order." For more detail, including a demonstration of Virtual Home, visit store.bm-touch.co.uk.