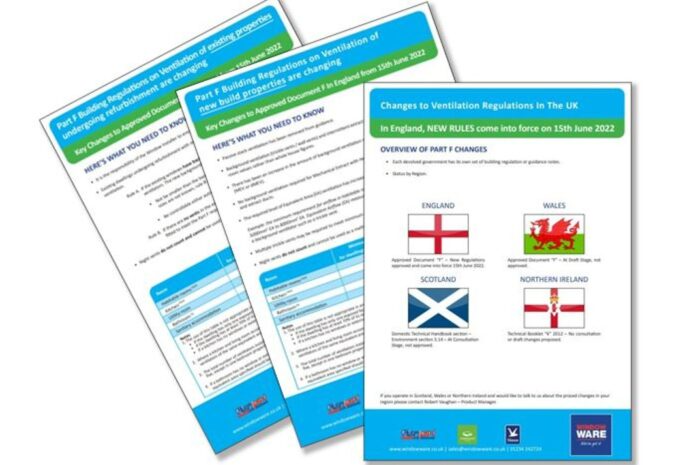 Window Ware has created a summary document outlining the key revisions to Part F (ventilation) of the UK building regulations in England. Ahead of the new regulations coming into force in England on 15 June, the hardware distributor's summary aims to explain the changes in layman's terms, and inform customers about how best to comply.
Richard Bryant, the business' commercial director, said: "At Window Ware, we have always made sure our customers receive the very best guidance on the latest regulations, so they can take any changes all in their stride. It's important that fabricators and installers know exactly how the updates to Part F will affect both them and their customers going forward.
"We really hope they'll find the summary quick to read and easy to digest, with all the key points set out plain to see. Like any regulations, there'll always be exceptions, but the guidance contained in this document should apply to the vast majority of build projects. By giving our customers a solid grasp of the fundamentals, we can help bring them one step closer to Part F compliance, and that's a win in our book!"
In a nutshell, according to Window Ware, the revised standard in England for new builds calls for greater background ventilation, with the airflow requirement in habitable rooms increasing from 5000mm2 EA to 8000mm2 EA. In the refurbishment market, vents must be fitted to replacement windows as standard, they say.
More specifically, if the existing windows already have vents fitted, then the replacements windows must incorporate vents with the same airflow or higher. If the existing windows do not have vents, then the replacements units must have vents fitted to meet the revised Part F requirements.
Window Ware's extensive range of vents are developed by the likes of RW Simon, Greenwood and Glazpart. "New vent options and variants are already under development and due to hit our shelves over the coming months," added Richard. "This ever-evolving product range, backed by expert advice and strong supply partnerships with some of the most innovative vent manufacturers all ensures that customers can count on us to support them every step of the way." To download the summary for free, visit windowware.co.uk/partf.