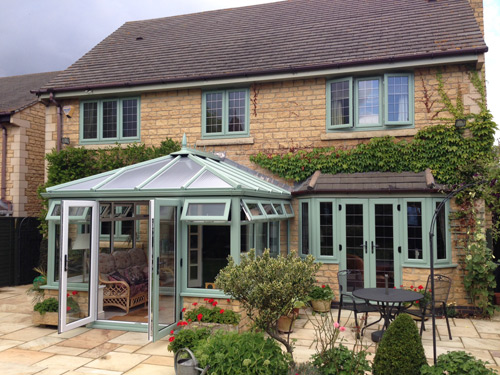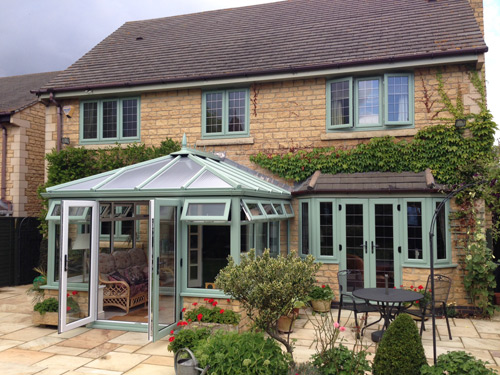 CWG Choices customer, Avon Bridge Conservatories & Windows, recently completed an impressive installation in Chartwell Green on white using Kömmerling's five-chambered O70 Gold system.
Avon Bridge is said to have worked on an 'illustrious list' of properties in various Cotswold villages and towns and believes that having cream and Chartwell green available from stock (as offered by CWG Choices and Kömmerling) is a 'major plus' for homeowners in £½-1 million properties 'looking for something other than plain white'.
In total there are eight foiled finishes available from stock and more than 40 other bespoke colours and woodgrains that can be ordered on a short lead-time.
As larger properties in the Cotswolds also require more heating, the adoption of a five-chambered window and door system has also added further weight to Avon's sales proposition, with the company offering 'A' rated windows as standard.
Ollie Spragg, co-director, commented: "We believe the Kömmerling product from CWG Choices is the best system in the UK market today. With colours such as Chartwell green, cream and agate (heritage) grey, we have an outstanding consumer proposition."
Jason Wilder, co-director of CWG Choices concluded: "Avon Bridge has been a great customer for us over a number of years and has been quick to adopt the new foils available from stock from Kömmerling. Our sales of foiled windows are now quickly approaching 30% of our business."
For further information on CWG Choices visit www.cwgchoices.com or follow @CWGChoices on Twitter.