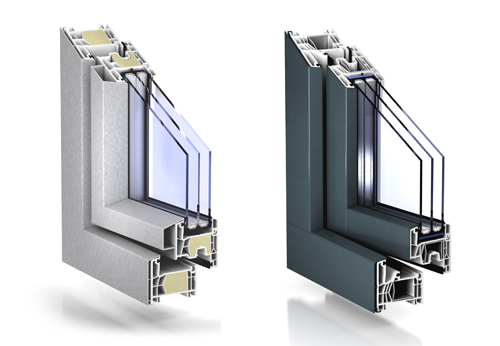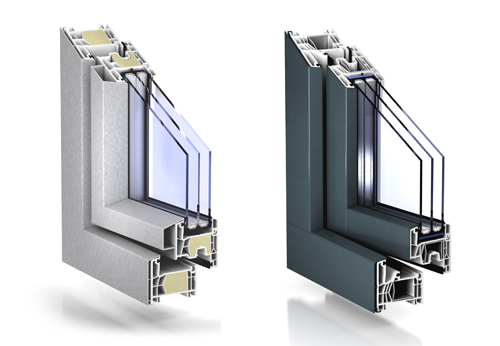 Kömmerling has launched a new range of PVC-U/aluminium hybrids based on its high-performance System 76 platform, recently unveiled at the FIT Show, with what it describes as 'enhanced technical credentials, new product technologies and boasting Passivhaus levels of performance'.
According to Kömmerling, the market for hybrid window and door systems is 'clearly emerging in the UK' with demand from specifiers, house builders and consumers, for 'products that embrace the best features of each material'. Enhanced energy efficiency, acoustic properties and product design are said to be 'the three main ingredients for this embryonic but important market sector'.
For Kömmerling, the new System 76 platform is said to set an 'industry benchmark' for product performance in PVC-U window and door systems. However, one of the most 'defining attributes' is said to be the range of hybrid options including the standard clip on section of the AluClip product, with a thermal insulation of Uf value of 1.2 W/(m2K) as standard. It's also the same hybrid technology that has been available on the existing C70 and O70 Gold systems.
More impressive still, says Kömmerling, is the flush exterior design of AluClip Pro, which uses the external aluminium section as a means of reinforcing, with a Uf value of 1.1 W/(m2K) as standard. When combined with the pre-foamed proEnergyTec profiles, an outstanding Uw value of just 0.69 W/(m2K) can be achieved, easily satisfying the requirements of Passivhaus.
With a wide range of foiled finishes to the internal face or even one of a select number of proCoverTec through rebate finishes, the most exacting of internal detail can also be created. Glazing options can be accommodated up to 48mm with the option for a number of acoustic insulated glass units.
Kevin Warner, head of sales and marketing for Kömmerling, commented: "System 76 is without question the most impressive PVC-U system of its kind, with advanced product technologies and enviable performance characteristics. The hybrid options that we can now offer are already opening up opportunities in the residential and commercial markets and with a number of benefits over pure aluminium systems, it's certainly a sector for the future."