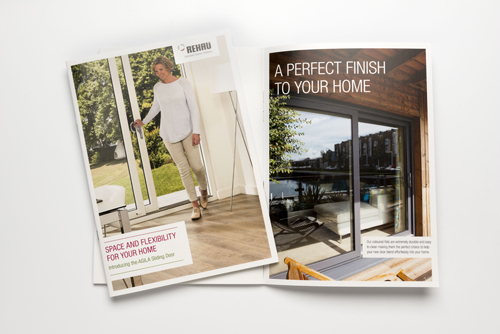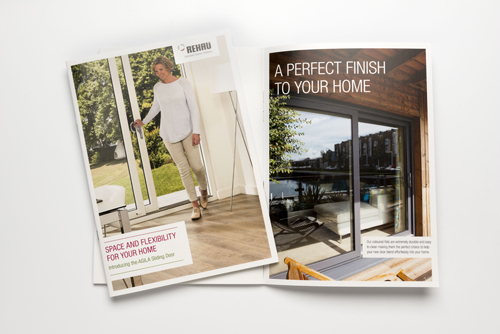 For peace of mind, a contemporary living space and a lighter environment in the home, look no further than the Agila sliding door from Rehau – that is the message in the window profile manufacturer's new brochure showcasing the product range.
The new brochure highlights the many benefits provided by the AGILA sliding door range and features what are described as 'beautiful visuals' to demonstrate how the door appears when used in a home setting.
Clare Higgins, product manager from Rehau, said: "This new brochure comes as we begin to see the Agila door commissioned in larger scale projects and more availability of the door across the industry. The clean and contemporary brochure is designed in a Rehau style but also mirrors the nature of the door, which offers clean lines and a brighter living space and enables customers to match their Rehau windows with a sliding door solution."
Key to the Agila sliding door range, according to Rehau, is its slim sightlines, which reduce the amount of visual profile and allow the home to be flooded with light. This can be enhanced further by a number of configurations available ranging from two-pane to six-pane, which can be opened from either left to right. The flexibility of the system also means there is the option to select a triple track frame which can create a cinematic door, bringing any outdoor space into the living area.
Despite this 'feeling of openness' the Agila sliding door range offers enhanced security. The door has a standard six point locking mechanism with a three star sold secure diamond approved lock cylinder as standard and a 10 year guarantee. For further security homeowners can upgrade this to a 12 point locking mechanism, which is able to achieve PAS24 and Secured by Design accreditation.
Designed to meet building regulations, the range also offers excellent thermal efficiencies. Tested to the highest weather and performance standards the Agila sliding door range will help homeowners reduce energy costs.
Clare added: "As with all Rehau products we have ensured the Agila sliding door range not only meets and exceeds building standards, but also enhances the home."