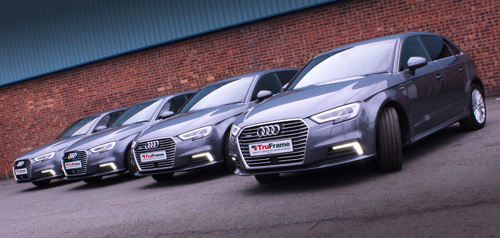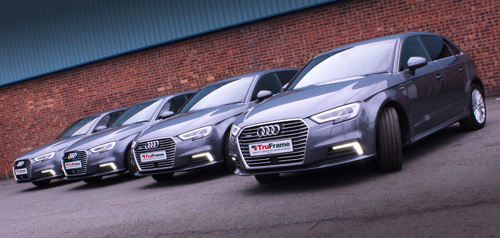 TruFrame has equipped its sales team with four new Audi A3 Sportback e-Tron hybrid cars, which were inspired by the technologies Audi developed for its winning Le Mans 24 hour racing team.
Audi first debuted the technology with its R18 e-Tron at the 2012 24 Hours of Le Mans and subsequently one of the team cars was driven to victory, making it the first hybrid electric vehicle to win at the iconic race track. Audi went on to win with the same car in 2013 and 2014, while harnessing this engineering expertise to make it commercially viable in mass produced vehicles.
TruFrame, which already carries ISO 14001:2015 for its environmental management system, says the adoption of hybrid cars is a 'further commitment to minimising its impact on the environment'.
The new Audi A3 Sportback e-Tron hybrid cars boast emission levels of 37g/km of CO2 and a 580 mile range from a small 40 litre fuel tank. According to TruFrame, it's also one of the few cars that qualifies for zero-rating in the Congestion Charge Zone in London.
David Firmager, managing director of TruFrame commented: "The new fleet of e-Tron hybrid cars for the sales team fully supports our commitment to the environment and our ISO14001:2015 certification. Our credentials as a diligent manufacturing company are demonstrated by our wealth of quality standards and this is part of the reason why our customers choose us as their PVC-U window fabricator of choice."