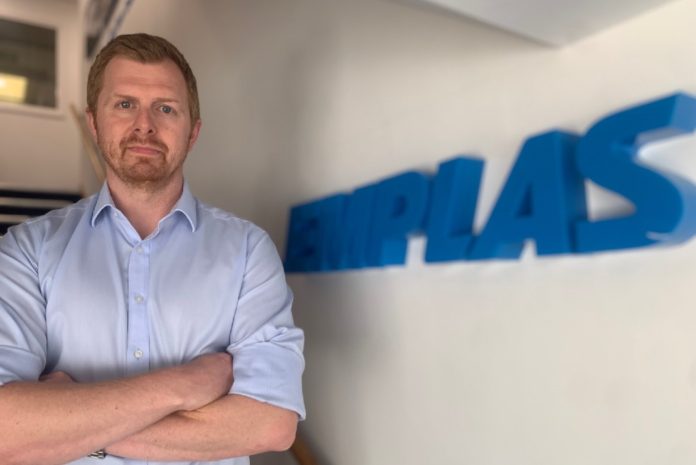 Emplas has launched a new aluminium window and door range. Unveiled in March, the range gives customers access to AluK's leading range of aluminium windows and doors, in addition to its pre-existing F82 Luminia bi-fold offer.
This includes the 58BW ST slim sightline window, including flush and heritage options; the aluminium system leader's 58BD residential and French door system, which also includes a flush option; and the BSC94 inline sliding patio, which goes as big as 6.5m. All, in common with Emplas PVC-U offer, are accessible through its online portal and Window Designer, allowing installers to get instant quotes and place orders online.
Jody Vincent, Emplas' sales director, said: "Everyone has seen the exponential growth in demand that there has been for aluminium. Our customers are fitting more of it, and we're here to meet that demand, through single-source supply alongside PVC-U.
"That's a single order, through a single system, and a single delivery to site for aluminium bi-folds, windows, PVC-U – and for those customers also buying in products glazed, units. It makes it easier to do business and when the market is so busy, it frees you up to capitalise on each and every opportunity."
Emplas added the flagship AluK F82 to its PVC-U offer in summer 2019. The a premium bi-folding door reportedly delivers enhanced performance and aesthetics, providing opportunities to tap into higher margin sales. The product has u-values of 1.4W/m²K with a double-glazed unit and as low as 0.9W/m²K when triple glazed. Available in lead times of 15-days or less, its launch was accompanied by a six-figure investment last year.
"The machinery investment that we made at the end of last year removes manual process, giving us far greater control over quality, reducing cycle times – and ultimately lead times to the customer," Jody continued. "We have a reputation for PVC-U but we've also made a corresponding investment in our aluminium offer. That puts us and our customers in a very strong position going forward."
The addition of the AluK BSC94 sliding door – which combines maximum sash weights of up to 400kg, a maximum height of 3000mm, slim, contemporary sightlines and single, double and triple track options – gives Emplas' customers access to the growing market for aluminium inline sliding doors. The company will also offer the new 58BW flush casement, defined by a slim 46mm sash, delivering minimal sightlines in open-out sashes in top, side, French casement and multi-light openings.
Additionally, Emplas will offer the slimline 58BW ST. Designed as a replacement for steel windows, the minimalistic sightlines of the 58mm system provide a contemporary aesthetic, giving it reach in new build and replacement markets.
"We're excited to be bringing new products online," said Jody. "But for me, the real value-add is the flexibility we can now deliver as part of a combined aluminium and PVC-U offer. We can now support our customers in accessing almost any aluminium project but the reality in home improvement is that a growing number of projects are integrated across material types. The flexibility to order a bi-fold next to a foiled PVC-U window and door and get it on a single delivery, is an instant win for installers in what is a very buoyant market." www.emplas.co.uk