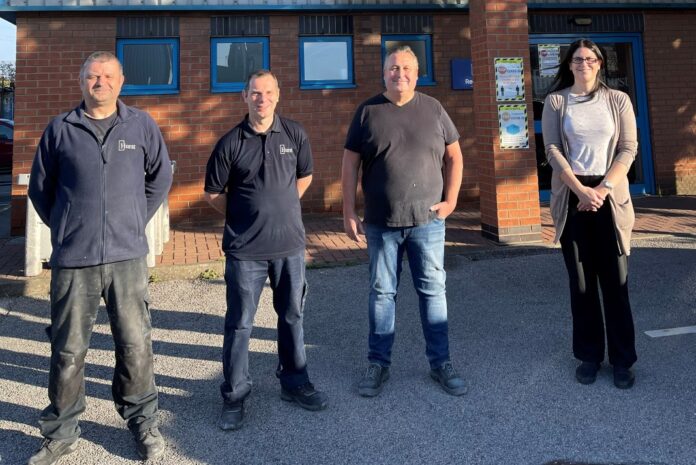 Hurst Doors turns 25 this month (December), and four members of the team are due to be honoured for their hard work and dedication to the business, receiving their '20 years of service' awards. The long service awards are due to be presented to the recipients at Hurst Doors' headquarters in Hull, by Gary Hurst, managing director.
Ruth Medhurst, Steve Orr, Alan Salter and Mark Griffiths are each set to receive engraved commemorative crystal tankards and wine glasses, along with an extra week's holiday entitlement, as thanks for their hard work. These latest achievements mean that 34 people (20% of the workforce) have delivered 850 years of service between them, with over 40% of the workforce having been with the business for over ten years.
Mark Atkinson, Hurst Doors' sales director, said: "Hurst is a family-owned business, and that sense of family runs through every aspect of who we are and what we do. We have a loyal, dedicated, and established work force, who we are very proud of. It is always our aim to ensure our team see Hurst as a notable place to work, with strong values and a supportive approach to overcoming challenges as one, united team.
"It's been an immensely challenging 18 months for our whole industry, and we are certainly no exception. As such, we're delighted to be able to share some good news and to congratulate Ruth, Steve, Alan and Mark on their, very impressive, 80 years of service between them."
Alan Salter, Hurst Doors' composite factory operative, said: "Twenty years certainly feels like a very special milestone, but in many ways the time has flown by. Whilst I have seen lots of big changes since 2001, the family feel and shared passion for delivering the best for our customers have always been a constant. It's a great way to round off the year and I look forward to the next 20!"
Ruth Medhurst, the business' aftersales administrator, said: "Hurst really is one big family, especially for me, as my mum works here, and it is also where I met my husband! I started at Hurst in my 20s and, whilst a lot may have changed since then, for me, it's the people that work here that make it such a happy environment to work in. Whatever challenges come our way, we all support each other to be the best we can be."
Despite recent challenges, the Hurst team has continued to grow throughout the pandemic, to accommodate the increase in demand. Vacancies are still to be filled in transport, production and customer services.
The team hopes to celebrate Hurst Doors' 25th birthday with a range of staff activities, including a 'Bake Off', raffle, fancy dress competition and Christmas Jumper Day. Proceeds from all these events will be donated to local charities.