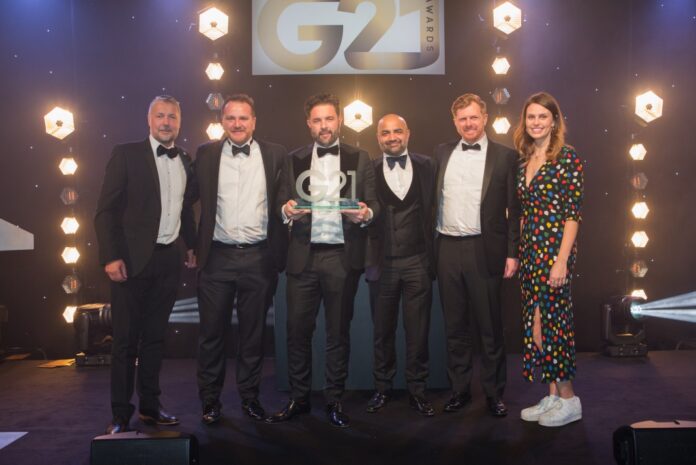 Emplas has been named 'Best Fabricator' on Friday 26 November, as part of the 2021 G Awards scheme. Held at the Hilton Park Lane hotel, London, the G-Awards celebrate achievement and innovation within the window and door industry. It is the second time in six years that Emplas has claimed the highly contested Best Fabricator Award.
Collecting the award, Ryan Johnson, Emplas' managing director, paid tribute to the Emplas team, its customers and supply partners. He said: "The last two years haven't always been easy. We've faced some big challenges, but we've adapted, we've overcome and we've been agile in our approach, changing the way we have run our business, so that ultimately we're stronger and better placed for the future.
"This award is testimony to the hard work of the whole Emplas team. We are incredibly lucky, in that we employ some of the industry's most knowledgeable, passionate and committed people.
"It's also a reflection of the professionalism of our customers and our supply partners. We've worked more closely with them than ever before to overcome the obstacles that Covid-19 has placed in our way. Those relationships are stronger going forward as a consequence."
Although not immune from the disruption and demand that hit the window and door industry in the last year, Emplas has continued to invest in its offer, launching a new aluminium range in March 2021, from AluK. It was also among the first manufacturers to lead the way out of lockdown in 2020, sharing resources created for its own retail business, T&K, with the wider industry.
Emplas also invested significantly in its IT systems, bringing new transparency to its offer with real-time visibility of capacity, new lead generation tools and customer relationship management. "We didn't really stop," continued Ryan. "We've kept going through what have been some very big challenges, and that's not only us, but the industry.
"We're delighted to have picked up an award. But seeing colleagues from the industry, catching up in person, and letting our hair down with friends is really what the night was all about.
"We're not out of the woods yet, there are more changes ahead, as an industry. However, we've demonstrated that we're incredibly resilient. That resilience will see us through in the weeks and months ahead. We continue to invest and to build our business for the future."