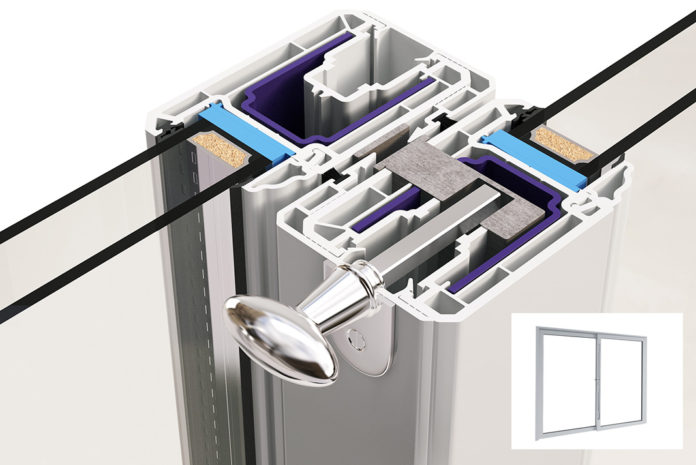 HWL Trade Frames has launched PAS24 as standard across its inline sliding PVC-U patio door range.
Manufactured in Kömmerling's PremiLine PRO system, the new offer from HWL is said to achieve PAS24 without the use of interlocking bolts, leaving sightlines uninterrupted.
Available in lead times of as little as seven days, the addition of the German-engineered system forms a central element of HWL's growth strategy for 2020.
"There's a lot of focus on aluminium doors but we sell a huge volume of PVC-U patios into domestic and newbuild settings," said Mark Haley, managing director, HWL Trade Frames.
"The flexibility to go out and offer a PAS24/Part Q approved door as standard, is a major benefit to our customers. There's an up-sell for the end-user but it also increases reach into new build," he added.
The Kömmerling PremiLine PRO is available from HWL Trade Frames in two, three or four panel openings. Hardware is from Fullex, including the interlock mechanism, and is guaranteed for 10-years. The HWL patio is also supplied with a Kinetica 3 star BSI Kitemarked TS007 cylinder
High-quality stainless-steel tracks are designed to guarantee the maximum possible service life and smooth running, while the clean sightlines of the 70mm outer frame are further enhanced through a wide choice of colours and low sightline black or grey gaskets.
Its central thumb-turn opening and closing mechanism, means that the PremiLine PRO can also be operated from a seated position. Available with a low threshold option, this makes it suitable for wheelchair users, meeting requirements under Part M and the Lifetime Homes Standard
It's the latest evolution in HWL's product range, which also includes the supply of R9, R7 and R2 .This includes its non-glass-bonded R9 window, which features a 90° butt welded joint inside and out, replicating a mechanical joint and a traditional timber joint – but without the requirement to glass bond.
"We offer Residence Collection plus two aluminium bi-folding and inline sliding door systems. The importance of PVC-U patios can sometimes become lost in and amongst all that," Mark continued.
"However, for installers it remains a key product. Offering Part Q as standard is a major advantage for many our customers given the requirement for it on so many home improvements, in addition to new builds."