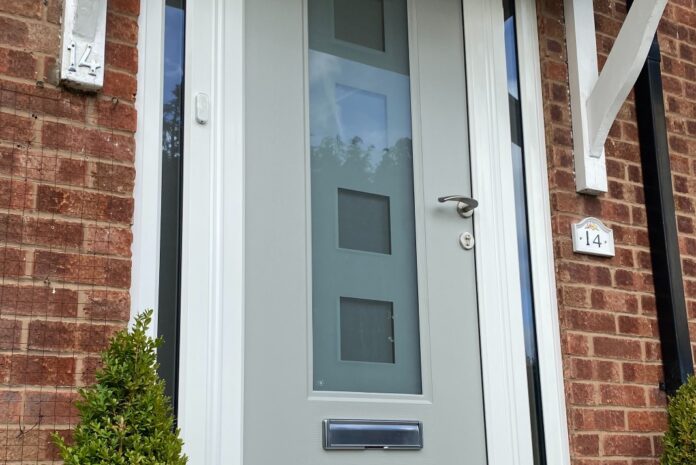 Staff of the composite door manufacturer Rockdoor have altered some of their manufacturing processes in order to reach new regulation requirements before the summer deadline (15 June 2022). Part L ('Conservation of fuel and power') covers the government's plan to reduce all new-build carbon emissions by around 30% compared to the 2013 Part L standards. To achieve this, manufacturers are required to improve the U-values and Doorset Energy Ratings (DSERs) of entrance doors.
Rockdoor's representatives say that the brand is already well known for offering 'the most thermally efficient composite door on the UK market', but the manufacturer has now made small upgrades, such as replacing a double-glazed unit with a triple-glazed unit and altering the threshold to meet the new required standards. Composite door manufacturers were given an extra 12 months to meet the new U-value and DSER requirements by altering their manufacturing processes, but Rockdoor managed to reach the new requirements by the time the 15 June deadline hit, earlier this year, they say.
Simon Bird, the firm's MD, said: "When we heard about the new required changes to Part L, we had to act as quickly and as efficiently as possible in order to continue to deliver the product that our customers have come to know over the last quarter of a century, without changing how we go about things too much. Adaptation, however, in this industry is crucial, with changes in consumer habits, governmental requirements and shifts in the market all contributing to the way in which we progress with the continued development of Rockdoor.
"In this instance, we are delighted that we have been able to work around the new Part L approved document and achieve compliancy, particularly when numerous other manufacturers have struggled to meet the original deadline, showing that Rockdoor is one step ahead of the competition." The composite door manufacturer currently offers A-C rated doors as standard.