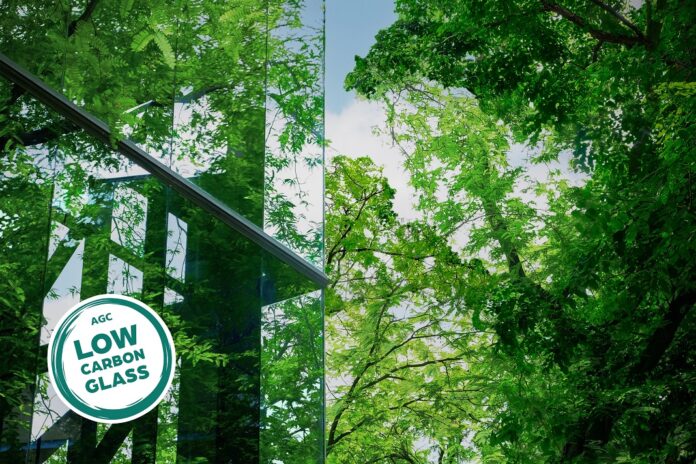 AGC Glass Europe has launched its low-carbon glass range, aiming to meet growing market demand and reduce the environmental impact of its production processes in line with its carbon neutrality roadmap. The business announced its intention to launch the sustainable range this summer.
After an in-depth process, AGC is now producing low-carbon Planibel Clearlite, a float glass with a carbon footprint that has decreased by 40% to just 7kg of CO2 per m² (4 mm thick). The first low-carbon Planibel Clearlite was produced at the AGC plant in Moustier, Belgium, and is available now. In 2023, the AGC plant in Seingbouse, France, is set to start producing low-carbon glass.
To achieve this CO2 reduction, every link in the value chain was closely examined and addressed, leaders of the business reported. This included limiting direct carbon emissions from the glass production processes as well as lowering all CO2 emissions from electricity production, the supply chain upstream of the company's processes and other indirect emissions. AGC's approach to sustainably producing its low-carbon glass covers six key areas: sustainable sourcing of raw materials, using efficient melting furnaces, increasing the use of cullet (recycled glass), using green energy sources, optimising transport between group sites for finishing processes and finished products, according to business representatives.
Davide Cappellino, president of AGC Architectural Glass Europe and Americas, said: "In 2022 – the United Nations International Year of Glass – AGC turned the spotlight on glass and our passion for this noble material. We also took a big step towards carbon neutrality during the year and are now delighted to close out 2022 with the launch of our low-carbon glass range, offering customers glass which – from the extraction of raw materials to final installation – generates more than 40% less CO2 than our standard glass."