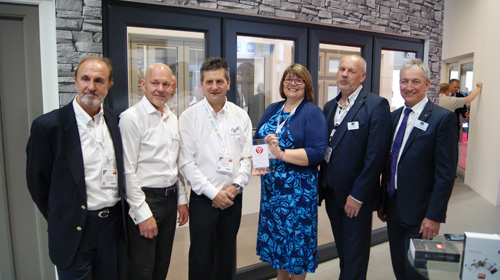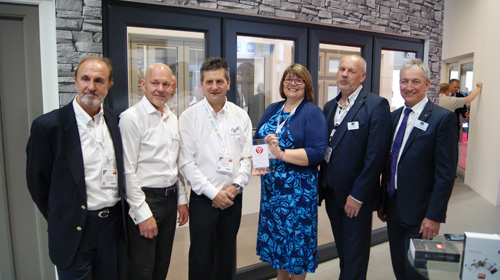 Lorraine Balch of BSI visited the Veka stand on FIT Show Big Tuesday to present Veka's head of product management, Steve Bakewell, with certification for successful Invisifold testing to PAS 24 (Enhanced Security Requirements for Doorsets & Windows) and BS 6375 (Performance of Windows & Doors).
The company recently completed a test schedule for slide and fold doors fitted with the greenteQ Invisifold hardware system and VBH's 'PAS 24' locking specification that includes the Yale Mantis door lock, greenteQ Alpha 2-Star security door handle and greenteQ Q-Star 1 star profile cylinder.
Testing was carried out at BSI on the Veka Matrix 70, Halo System 10 and Halo Rustique profile suites.
VBH systems sales manager, Rob Norman, said: "Veka and Halo have really seen the benefit of the Invisifold slide and fold system and were fully committed to going to test with us. This certification is in addition to the recent work we have done together to get a wide range of VBH hardware tested and accredited to BSI requirements. The team at Veka and Halo really sees the importance of providing their customers with a range of Document Q compliant products.
"To be able to receive the certification from BSI at the FIT Show is a real bonus for us all."
Invisifold featured prominently on VBH's own FIT Show stand with the company displaying a four pane PAS 24 door, and three pane casement and tilt & turn windows, which were both being shown in the UK for the first time. All three products were met with much interest.