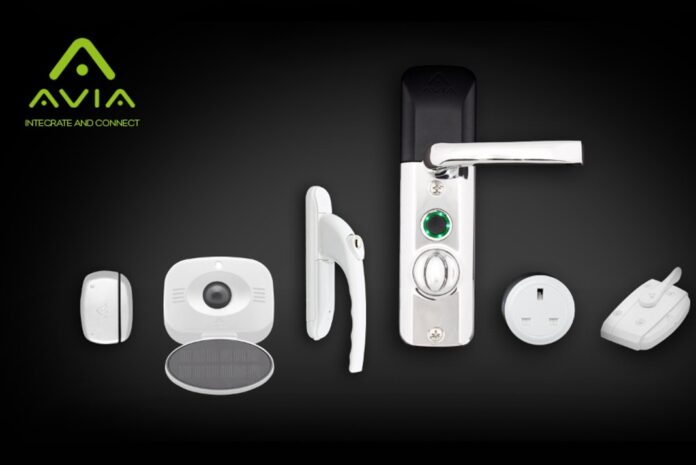 Mighton has launched a full suite of Avia smart home security products. The range is marketed as a premium, fully integrated and retrofittable package of solutions that builds on the success of the company's Avia smart door lock. Products have been designed to work seamlessly with Apple's HomeKit security ecosystem, which is one of the most secure available.
The Avia smart door lock was introduced to the market in 2019, reportedly raising the bar for smart security products. Combining mechanical and smart technology, it was the first smart lock to meet the criteria for Sold Secure SS301 Silver approval, and the first to achieve the government's Code of Practice for consumer Internet of Things (IoT) security.
The new family of Avia smart products includes the original smart lock plus an intelligent casement window handle, sash fastener and a window and door sensor that allow users to tell, at a glance via their Apple devices, the status of their windows or doors. The casement handle is available in a range of finishes and can replace existing handles in a matter of minutes, with no specialist tools required.
The Avia window handle, sash fastener and window and door sensor are all battery operated, easy to install, and easy to set up using Bluetooth LE technology with an LED indicator that confirms pairing and operation, according to business representatives. The Avia range also includes a smart socket that can be used in conjunction with Apple Home automation, to give complete control of household appliances.
A high-tech, motion-sensor-activated PIR camera on the product can detect movement up to 10m away. A powerful LED light illuminates when a person is detected, and the product also includes an audible alert. The Avia window handle can operate for more than a year on battery power, or indefinitely with an optional mini solar panel.
Mike Derham, Mighton's chair, said: "Smart home security products continue to grow in popularity but in order to take full advantage of the demand it's vital that fabricators and installers can demonstrate solutions that are genuinely secure and not just a gimmick, in order to give homeowners ultimate peace of mind. With Avia, they are able to do just that.
"The Avia smart lock benefits from the class-leading security that Apple's iOS operating system provides, backed up by robust, mechanical hardware. We've applied the same ethos to our new family of Avia smart security products, which has been subjected to rigorous security testing so that it is also compatible with Apple's HomeKit," Mike continued. "The result is a market-leading security package that will work seamlessly with any Apple device, delivering a familiar, high-end user experience."
Mighton's new suite of Avia smart security products is available to buy now. The range is BSI Kitemarked, Secured by Design (SBD)-certified and can be presented to homeowners as a complete package or sold individually. Unlike other systems, Avia products do not require a subscription. For more information and product details visit aviasmart.com.