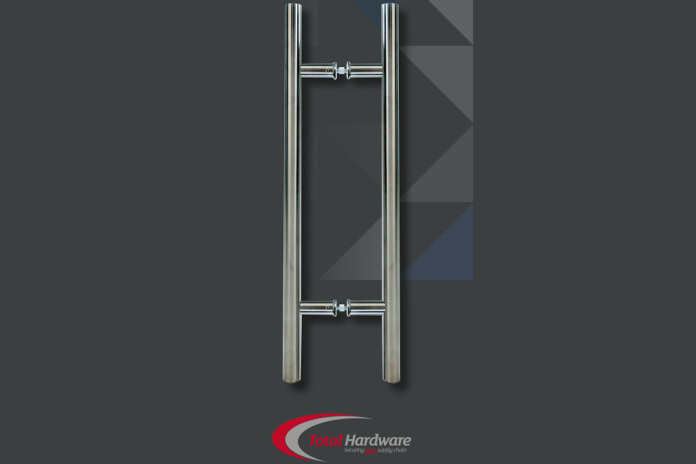 Total Hardware's Superior 25 stainless steel pull bars have a contemporary ergonomic design. And with the trends in composite doors moving towards contemporary aesthetics, installers are seeking out hardware that supports the shift, business representatives have said.
The bars are part of a fully suited hardware range that was created to enable sleek and coordinated installations. The pull bars are versatile with three fixing options: single-through fixing, single-face fixing and paired fixings. There are also inline, offset and square variations, and they come in six lengths from 400mm to 1800mm.
Chris Pell, general manager at Total Hardware, said: "Hardware is an integral part of the aesthetic of an installation. When it comes to contemporary composite door designs, our stainless steel pull bars are the perfect finishing touch. Customers are increasingly choosing the single face-fixing option, which opens up opportunities for different handle styles on the interior and exterior of doors."
The stainless steel pull bars are made from 316-grade stainless steel for corrosion resistance. The coating has been tested to BS.EN: 2007 Grade 5 and has a 25-year coating guarantee. Alongside Total Hardware's Superior 25 range, which is aimed at the premium end of the domestic door market, there is also the Quantum range. This is aimed at installers that want to differentiate their own product range.  The company also stocks a 1200mm inline pair of square-effect pull handles for 'next-level aesthetics'.
Chris concluded: "As trends move away from traditional composite door designs to more contemporary styles, it is vital to ensure your portfolio delivers what your customers need. Our Superior 25 stainless steel pull bars combine sleek contemporary aesthetics with the quality and durability these handles demand. They are the perfect addition to any contemporary door portfolio."