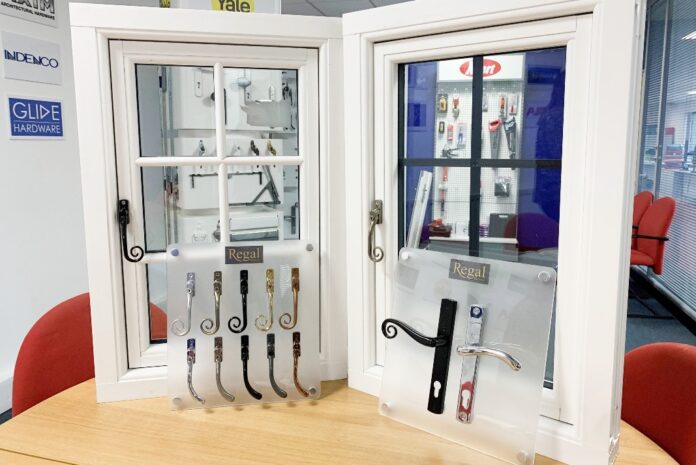 Window Ware's Regal Hardware sample display boards have proved surprisingly popular, this business' leaders have reported. Richard Bryant, Window Ware's commercial director, said: "We originally put the boards together to support our area sales managers whilst out on the road, but we had so much interest from customers keen to use the display boards for their own promotional purposes, we simply had to oblige!"
Since its launch to market back in spring 2018, Regal Hardware has been a resounding success story, representatives of the independent UK hardware distributor Window Ware have said. The rise in popularity of flush sash windows has fuelled demand among fabricators and installers looking for authentic high-quality period style furniture to suit, they added.
"There are two Regal Hardware sample display boards for customers to choose from," Richard explained. "One features the window handles in both the monkey tail and pear drop designs in all 9 beautiful finishes, and another shows the new Regal door handle which was only launched this summer, to answer fabricators' calls for a complete suited heritage hardware solution. The boards make an effective sales tool in any showroom, helping to bring the hardware range to life and give potential customers the opportunity to try the handles before they buy."
Window Ware has sold more than 90 sample display boards since they were introduced in May, proving there's as much demand for high-quality Regal Hardware marketing support as there is for the stunning hardware, they say. In response, Window Ware has made sure there's an abundance of promotional tools and resources available for Regal Hardware, in addition to the popular display boards. Leaders of the business hope that this move will help fabricators bring home the range's unique appeal to their customers, and win new business.
Window Ware has served the window and door industry with hardware, tools and consumables since 1987. To contact the team, call 01234 242 724, email sales@windowware.co.uk or visit windowware.co.uk.