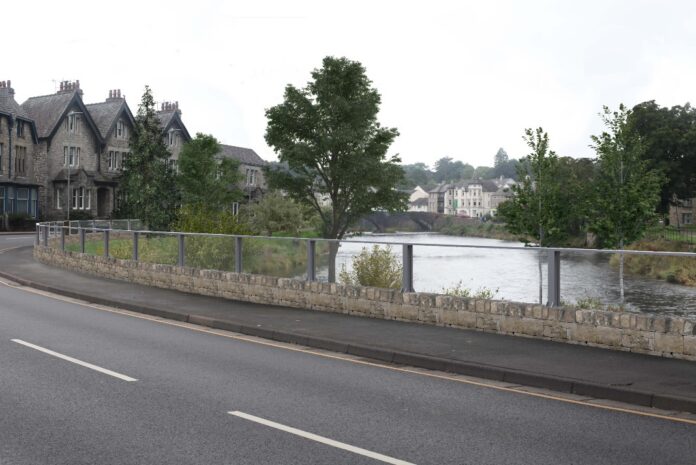 Construction has begun on a glass flood defence wall in Kendal, southern Cumbria. High-performance glass within a high-specification stainless steel frame features on this project, which is designed to protect homes and businesses from flooding, without spoiling the town's historic beauty and riverside views.
The glass used as part of the innovative flood wall is a bespoke creation developed in collaboration with Pilkington, which is part of the NSG Group, and the chemical and materials manufacturer Kuraray. It features alternating layers of glass and interlayer to create a 35mm laminate, with toughened Pilkington Activ as the outer panes and a toughened 12mm Pilkington Optiwhite middle pane. The glass panels have been rigorously strength tested, according to Pilkington's representative.
The 39-metre wall follows planning approval for the first phase of a wider project to build 6km of flood walls and embankments. Once complete, the project will reduce the risk of flooding for more than 1,480 homes and 1,100 local businesses.
"Our work with Kuraray has enabled us to provide a sophisticated glass solution that will stand up against the harshest conditions," said Peter Maj, area sales manager for Pilkington UK. "The addition of our self-cleaning technology means that residents can be rest assured that the proposed flood defences will remain clear, needing little maintenance throughout its service."
Jonathan Cornthwaite of Kendal Town Council added: "The Kendal Flood Risk Management Scheme will and already is proving beneficial for the local community. The safety of our residents is of the utmost importance to us, so the flood wall protecting the area's most vulnerable whilst preserving the scenic beauty of our town is a welcome addition to Kendal's riverbanks. And this is just the start. We're looking forward to broadening protection further in the summer of this year with the next phase of this important community project."