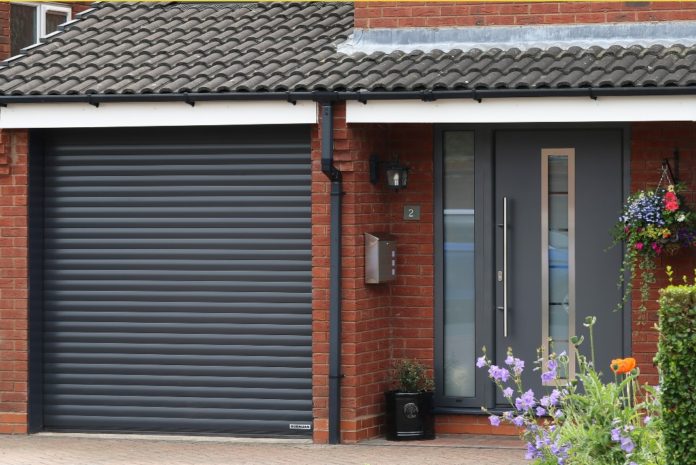 As the trend to match garage and entrance doors gains popularity, Hörmann's recent installation sets out to show just how easy it is. The pictured property features a smart RollMatic T roller garage door in Noir Sable 2100 and a contemporary-style Thermo65 Steel entrance door in a Decograin Titan metallic finish: an ideal combination, according to Hörmann.
The RollMatic T garage door, from Hörmann, has been developed to specifically address the requirements of an increasingly competitive roller door market, while not compromising the high-quality standards expected from Europe's leading garage door manufacturer, the business says. Launched in September 2020, the RollMatic T has been designed to be quick and easy to fit. The door is supplied in two, sturdy and easily transportable boxes, with pre-assembled and pre-drilled components reducing preparation time on site.
Featuring a 77mm lath, RollMatic T is available as either internal or external roller options. It is available in heights from 1200mm to 3100mm and widths from 1000mm to 5000mm, with doors up to 3000mm wide supplied with 75mm side guides and doors over 3000mm with 105mm guides.
A wired, opto sensor in the bottom seal comes as standard, stopping the door if there is an unexpected obstacle and operates to DIN EN 13241. A wireless version is available as an upgrade.
Hörmann's range of Thermo65 steel entrance doors not only offers good looks but also feature a 65mm door leaf, which provides exceptional thermal insulation, achieving U-values as low as 0.87 W/M²K, the business says. Impressive security is in-built, as, all doors are equipped with a five-point security lock, with RC2 security equipment available as an option.
An extensive selection of door designs, incorporating stylish accessories, offer opportunities to create a unique and impressive entrance door, according to Hörmann. Its recent introduction of a range of fittings in elegant jet black mirror the trend for black fittings that is popular in both kitchens and bathrooms, they say. The Thermo 65 black edition provides both exterior and interior lever handles, and matching stainless steel glazing frames, creating a sleek, modern look.
Hörmann's preferred colour selections have been expanded to include a choice of on-trend greys such as dusty grey and grey aluminium. So, matching garage and entrance doors is more straightforward than ever before.
Homeowner Jeff Gill said: "Our house has been given a real facelift. The RollMatic T is a huge improvement to the old up-and-over garage door, and we were impressed with just how quick it was to install.
"Our old PVC front door had seen better days, so it made sense to change it at the same time, to match the garage door. Not only does it all look good, but we now have doors which add to the overall security and safety of our home, adding to our peace of mind."
Find out more about Hörmann entrance doors online, at www.hormann.co.uk. Alternatively, call 01530 516 868.