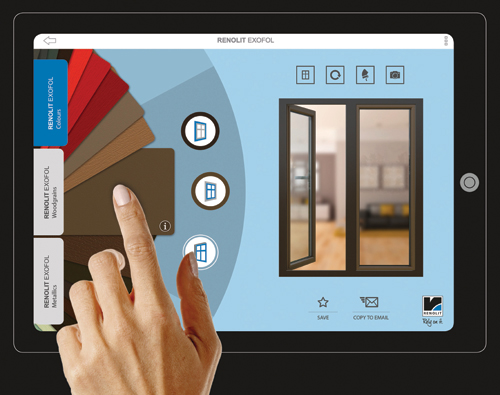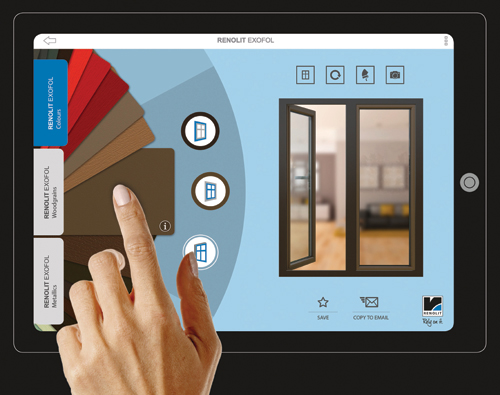 The new Renolit Exofol app for iPads, is described as 'the easy way to discover the world of Renolit Exofol exterior films', a range that reportedly offers 'the largest selection of colours and woodgrains worldwide'.
'Easy, fast and practical to use', Renolit says it is simple to configure your own style of window with the app, by combining different window options with any colour or woodgrain design. This enables the user to visualise their specific window projects particularly vividly, with very little effort.
Available in English and German, the app includes an animated quick start guide, and 'forward' and 'backwards' buttons to make using the configuration tool straightforward.
'Effortless' to use with your fingertips, simply select the required range tab (metallics, woodgrains, or colours) and spin the wheel of samples until the desired swatch extends out. Then drag and drop it on to the window profile section. You can further select the window style, rotate between inside or outside perspective, and change the wall colour. Save your window design to favourites, compare different configurations, then email a copy or link to sample ordering (requires wi-fi connection).
To download the Renolit Exofol app for free, from the App Store, search for the Renolit Exofol app or follow the link from www.renolit.com/exterior.
The App will also become accessible for everyone via Renolit's website during 2016.
To receive a BooQi guide to show you which functions the Renolit Exofol app has, together with free of charge window cleaning kit, contact Renolit Cramlington at renolit.cramlington@renolit.com or by phone on 01670 718222.