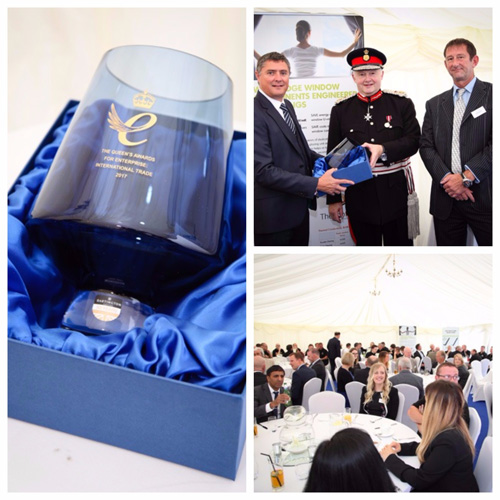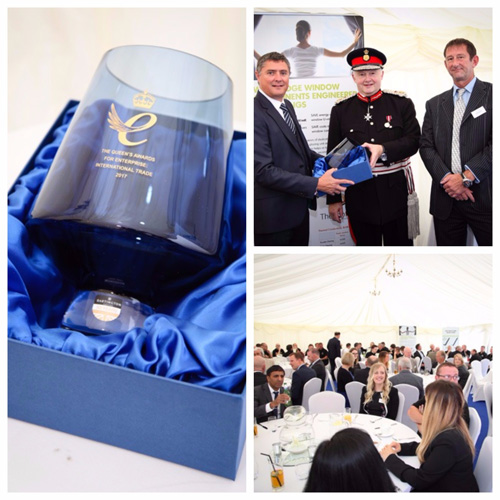 UK manufacturer and supplier of insulated glass components, the Thermoseal Group, was recently joined by around 70 guests at its northern manufacturing and distribution centre in Wigan, for the presentation of a prestigious Royal accolade.
The Queen's Award for Enterprise, which recognises exceptional business performance, was officially presented to Thermoseal Group MD, Gwain Paterson, by Lord-Lieutenant of Greater Manchester, Mr Warren Smith, at a special event attended by around 70 guests.
Following a congratulatory reception at Buckingham Palace, hosted by the Queen and the Duke of Edinburgh, earlier this year, the award presentation, in the category of International Trade 2017, was an opportunity for the Thermoseal Group to celebrate the achievement with its staff and customers, on home turf.
Emphasising the company's achievement, the Lord-Lieutenant said: "These awards are not easily earned.
"This year, only 102 awards for International Trade have been made nationally, and yours is one of eight in the West Midlands."
Acknowledging the efforts of the whole Thermoseal team, he said: "The award is not to an individual, not to the management but to the whole workforce…If one word encapsulates it; it is 'teamwork'.
"May I, on behalf of Her Majesty, congratulate you all for this remarkable achievement and give to you Her good wishes for your continuing success."
Paying tribute to his parents, who founded the company in 1979, Gwain Paterson said: "I am very pleased to say that my parents, Jim and Margaret, are here today. I think we should all give them a round of applause because without them, this would never have happened.
"Thermoseal now sell over 50 million metres of spacer bar per year. We are the market leaders in the UK, and supply products to 22 countries around the world.
Paying tribute to "the boys and girls who work for Thermoseal in Wigan", describing them as 'team players', who are 'loyal, true' and 'forward thinking', he said: "Without you all, Thermoseal would not be the same. You built up everything around us. Your hard work and 'can-do' attitude has contributed to our success… it is often humbling to see the efforts my colleagues go to, to achieve the right results."
After the presentations, tours of the Wigan facility were followed by a celebratory evening meal to mark the achievement in true Thermoseal style.
Said to 'celebrate and encourage business excellence in the UK', the Queen's Awards are made each year by the Queen on the advice of the Prime Minister who is assisted by an advisory committee that includes representatives of government, industry, commerce and the trade unions.