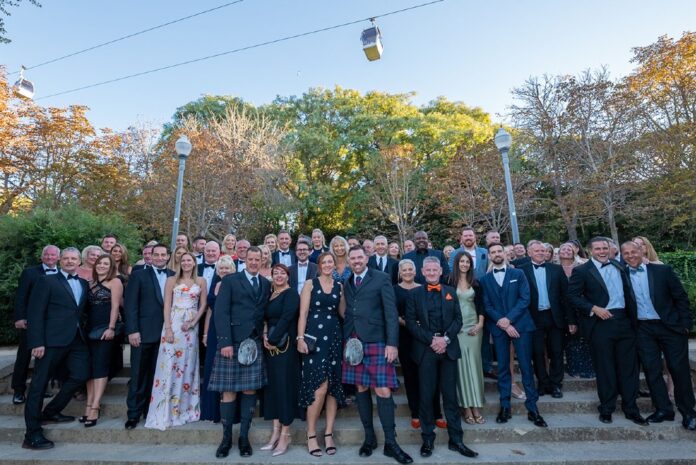 Conservatory Outlet has welcomed two new companies to its retail network: Ayrshire's RMC and Dundee-based installer Ecofit. Greg Kane, Conservatory Outlet's CEO, announced the news during the firm's annual network celebration on 1 October.
The additions take the number of retailers that the window, door, home extension and conservatories manufacturer supplies to 29 altogether, as well as ensuring that Conservatory Outlet has a presence in every postcode in Scotland. Conservatory Outlet's network celebration took place at the Esferic building in Barcelona's Montjuic park, where key stakeholders from the businesses that form the network met to celebrate achievements of the past year and to discuss how to manage supply chain pressures, energy price rises and fluctuating consumer demand.
Attendees of the network meeting heard how Conservatory Outlet has invested £100,000 into a new academy to support staff. They were also told that sales training and new measures are being introduced to help facilitate growth, as well as given details about future initiatives.
"Whilst many of our competitors took major casualties and lost many clients during the last two years, we're been able to maintain all of our network – a fact that we put down to the shared values of honesty, quality and innovation," explained Greg. "Not only have we remained intact but Conservatory Outlet has strengthened coverage in key strategic areas with the arrival of two of Scotland's finest home improvement specialists in RMC and Ecofit. This takes us to 29 companies, with another new member set to be announced shortly."
He continued: "I don't think we've ever had two years like we've just seen, moving from the issues surrounding Covid-19 to supply chain disruption and, this year, massive price rises. Throughout, our focus has remained on delivering new solutions, products and initiatives to drive leads for our retailers. Our marketing team, working with DigitalKOG, is helping members with new website content, social media, digital and in-person campaigns to make searching and purchasing the right options a lot easier."
The Conservatory Outlet gala dinner was used to recognise some of the achievements of the business' members, with West Yorkshire Windows (WYW) celebrating 15 years in the network. Amber Home Improvements, Premier Windows and Conservatories and Mitchell Glass marked 10-year anniversaries.
Wycombe-based Hazlemere took two titles (Best New Living Space and Most Complex Design Installation), while 5 Star achieved the Best Window and Door Installation accolade. Archie Dootson of WYW took the Apprentice of the Year award.
Trevor Malia was named the network's Unsung Hero. He joined James Oliver Conservatories as an apprentice and now, 30 years on, leads a conservatory fitting team that works on the company's high-value projects.
Karen Clough, marketing director for the Conservatory Network, went on to add: "Barcelona has been a fantastic trip and underlined the superb community and family spirit we have in the network. This was none more evident when eight of us – Joey Heaton (TWC), Stewart Kelly (Eden), Mervyn and Lindsey Stanley (ERG), Paul Reid, Garry Myles and Sarah Boyle (Ecofit) – decided to skydive from a plane at 10,000 metres. Together, we managed to raise more than £2,700 for the NSPCC and a further £900 for Prospect House in Swindon. It was a brilliant opportunity for the Network to come together and show support for some fantastic charities."
Greg concluded: "This weekend has been amazing, arguably our best and most productive one yet. We pride ourselves on being a close-knit network. Being able to come together to discuss challenges, celebrate achievements and lay out a path for our combined and continued success is of real benefit to everyone involved." For further information about the network, visit conservatoryoutlet.co.uk or follow @conservatoryuk on Twitter.