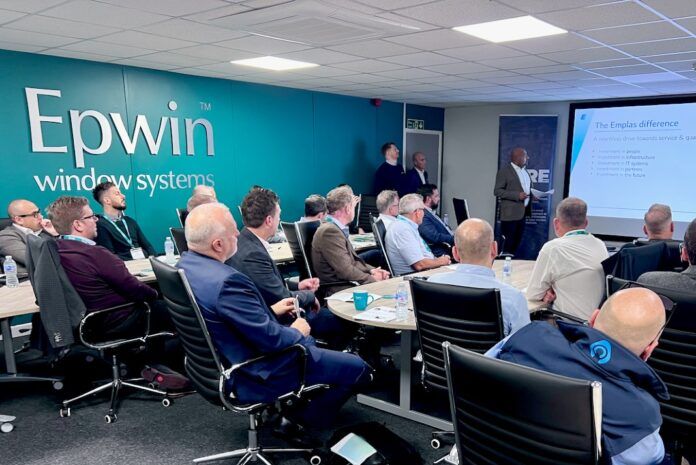 Trade fabricator Emplas held its annual Core focus group at Epwin Window Systems' headquarters in Telford, at the start of this month. The event united Emplas customers and suppliers, to discuss key industry topics and preview new products.
"We established Core 1979 to bring our core customers together with our supply chain to review market drivers and share best practice," said Ryan Johnson, Emplas' group managing director. "The nature of the event means that much of what we discussed stays under wraps for now.
"We looked at new product innovation and shared a preview of new software development. All this will help our customers maximise opportunities during what is expected to be a tricky 12 months.
"The event was hosted by our profile supplier, Epwin Window Systems. Attendees previewed new product development, along with insightful consumer research undertaken by Charlotte Hawkes from Keystone Market Research. Members of the Avantis and Kubu team also provided an update on our ongoing collaboration and the continuation of our 'Smart as Standard' journey.
"There was also an opportunity to reflect on how the window and door market has responded to economic forces over the last year, thanks to a short presentation by Lasco PR and Marketing, and what could drive sales in the coming year. And with much still to be clarified in relation to the Future Homes Standard, Phil Parry, Epwin's technical director, summarised the potential impact of the new standard, which is expected to come into force in 2025, with the official consultation expected to start before Christmas."
Ryan continued: "A lot of what we develop needs feedback and buy in from our customers. The CORE 1979 focus group gives us the perfect platform to share our strategy and keep customers up to date with all the latest industry trends and developments.
"And no event like this is complete without the informal networking that takes place well into the evening, which this year took place at the Telford Golf and Spa Hotel." For more information about Emplas, visit the Emplas website, email info@emplas.co.uk or call 01933 674 880.