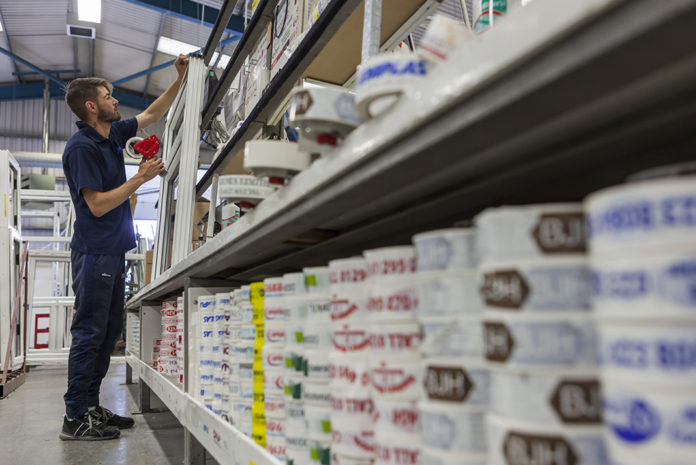 Emplas has launched a new customer returns procedure, which it says is designed to make returning faulty or damaged product simpler, while increasing its visibility of any issues in supply.
Launched at the tail end of last year, Emplas has stripped-back process so customers can manage the returns process online through its digital portal EVA, with full visibility of the status of returned products, for example, awaiting collection, returned or refunded.
The returns process is initiated by registering a product for return online and then printing out a corresponding returns label and stick it to the product being returned. This is then collected by the delivery driver who will match it to the collection number and once inspected, trigger a credit.
This immediately sets the returns and refund process moving, reducing the time customers wait for a refund.
If it's not possible to return product because it would be dangerous to do so, for example, a badly damaged IGU, installers can simply register the failure and trigger the process without physically returning the product.
Kush Patel, deputy managing director, Emplas, said that the new process was simpler but also increased its visibility of process as part of Emplas' programme of continuous improvement.
"Our customers don't need a double hit if something isn't right," he said. "If there's a manufacturing fault or something has been damaged in transit it's going to cause them disruption. We don't want to add to that frustration by making our customer returns process overly complicated.
"So, we've stripped it back, making it far simpler but also significantly improved our own ability to track returns, which means that if there's an underlying issue in an area of manufacture, or within our supply chain, we know and we can address it."
Once a customer complaint has been filed and the returns label has been attached to the faulty product, customers can then trigger collection through EVA, so that the lorry driver arrives with a list for collection when delivering their next order or as soon as the return is ready.
Each returned item is then reviewed by Emplas' quality control department and a credit is awarded where applicable.
"EVA also delivers a push notification to customers who have re-ordered and filed a complaint but who haven't triggered the return," said Kush. "Customers have 56-days to return product and get a credit.
"The system will prompt them to trigger the returns process i.e. print the label and request collection, to make sure that they stay within that 56-day period."
With one of the UK's leading OTIFs and, Emplas employs rigorous quality control checks throughout its manufacturing process.
This includes de-taping profile and re-taping product with customer-branded tape during final checks ahead of dispatch.