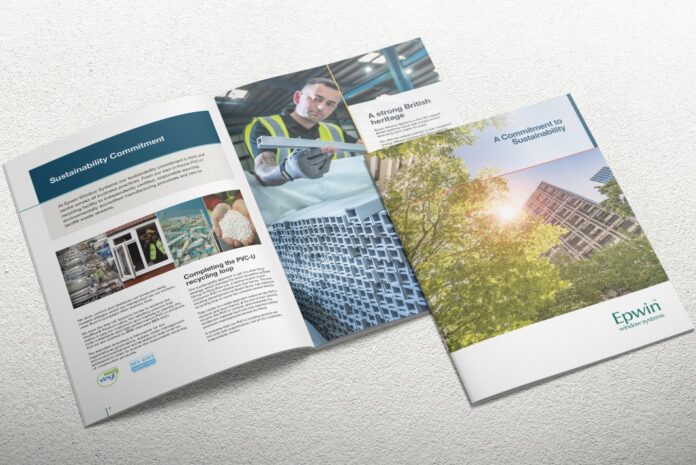 Leaders of Epwin Window Systems have published a new sustainability brochure that highlights the business' environmental commitments. The eight-page brochure highlights Epwin Window Systems' 'cradle-to-cradle approach' to ensuring the sustainability of its systems, and is available to download from the company's Connect digital portal.
Phil Parry, Epwin's business development director, said: "Here at Epwin Window Systems, sustainability is front and centre across all our business practices. It's not only the responsible thing to do but there are clear commercial advantages too, because end users increasingly prioritise sustainability in their purchasing decisions."
Epwin Window Systems is marketed as the only UK-based PVC-U systems company that is certified to the requirements of BES 6001: Issue 3.0. This certification demonstrates that the company's products have been made with constituent materials that have been responsibly sourced. Epwin's representatives also claim that the firm is the first UK-based systems company to achieve the VinylPlus Product Label, a scheme that reportedly makes it easy for customers and markets to identify the most sustainable and high-performance PVC-U products.
The company has a 'zero to landfill' policy. As part of this commitment, waste management processes are designed to segregate waste at source. All waste from its site is segregated and sent off for recycling by registered waste carriers. Waste bar lengths are made into recycled composite material for use in thermal inserts for outer frames, sashes, transoms and mullions.
While in use, all Epwin Window Systems' products have been designed to maximise thermal efficiency and meet and exceed regulatory requirements. This helps specifiers, contractors, fabricators and installers to meet environmental targets.
Additionally, the Epwin Group has acquired Poly-Pure in September, a British recycler of post-consumer PVC-U window and door frames. The acquisition means that Epwin can take PVC-U window and door frames that are at the end of their useful life, recycle the PVC-U content and incorporate the reclaimed material back into new extruded building products manufactured across the group.
Phil said: "This latest group acquisition fully closes the recycling loop to cover the complete product lifecycle. Like us, Poly-Pure is a UK-based company, which means we can proudly say our products are made (and fully recycled) in Britain.
"We have a long track record of commitment to the environment. Back in 2009 we were the first UK systems company to offer a 100% recycled window. But our progress to date is just the start.
"We have well-developed and impactful programmes in place to continue to reduce our carbon footprint and enhance sustainability across all our activities, products and processes. We have aligned our operations to the UN Sustainable Development Goals and are developing an Environmental Social Governance framework and targets. In short, here at Epwin Window Systems, we've made a commitment to a greener tomorrow."