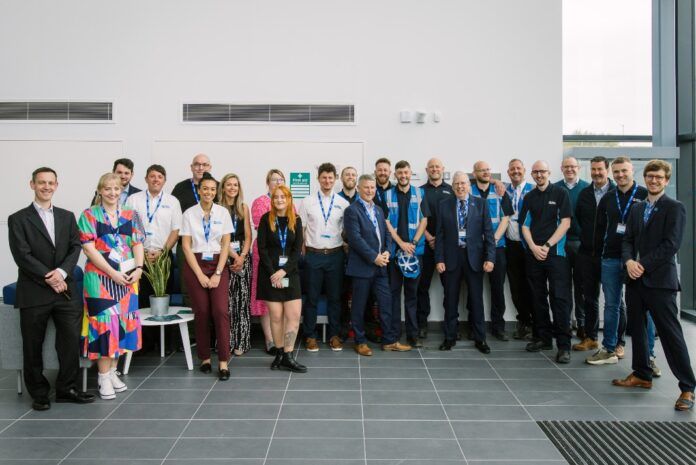 Leaders of Glass Futures have secured £7m in funding for the organisation, and £11m from the UK government's Department for Energy, Security and Net Zero. The not-for-profit research technology organisation aims to drive deep carbon emission cuts within the glass and ceramic industries, supported by researchers based at Glass Futures' £54m Global Centre of Excellence, which opened in June.
Through investigations into 100 per cent hydrogen, low-cost biofuels and electrical boosting, Glass Futures will partner with its members across the ceramic and glass sectors to drive a smoother, faster transition from fossil fuels.
Richard Katz, CEO of Glass Futures, said: "Some 10 years after the idea for Glass Futures was conceived, it's fantastic to see such progression and the opening of our Global Centre of Excellence this summer.
"In addition, we have secured over £7m of funding directly and £11m for our members to really put our industrial scale test furnace to use. Without government funding like this, much of our ground-breaking research to date wouldn't have been possible.
"This new hydrogen project directly addresses the technological gaps we identified in the feasibility stage, so we can now fully develop and assess the technical, economic and environmental feasibility of hydrogen technologies. Similarly, there is a need to investigate electric boosting and any short-term commercial benefits.
"The glass industry operates furnaces that are continually running with long-operation lifetimes. There simply isn't the time or money to trial new fuel technologies that might not work.
"This is the exact reason that Glass Futures, and our new Centre of Excellence, exists – to bring together glass and foundation industries with academia, to trial innovative technologies and solutions on an industrial scale."
Richard added: "Aside from our hydrogen and electric projects, demonstrating the viability of low-cost biofuels will offer solutions to off-cluster manufacturing sites worldwide where the cost of developing the necessary infrastructure to provide low-carbon fuels like hydrogen and electricity are likely to be prohibitive but there are large amounts of local bio-derived waste streams in abundance."
Read more about the organisation at the organisation's website. Click here for our previous coverage about Glass Futures' centre of excellence.