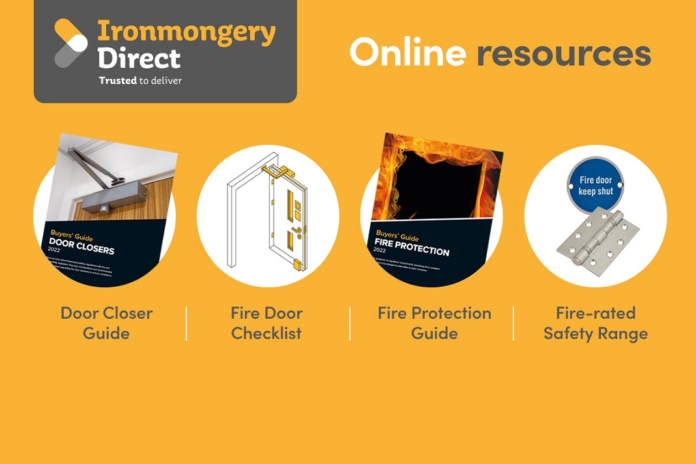 In support of Fire Door Safety Week (this week), representatives of IronmongeryDirect have published online fire safety resources to help customers comply with the latest regulations. The aim of Fire Door Safety Week is to raise awareness of the critical role that fire doors play in protecting life and property as passive fire protection in buildings. This year's Fire Door Safety Week ends on 4 November 2022.
The resources on IronmongeryDirect's website include a fire door safety checklist, which aims to highlights the key areas on a fire door that need to be checked, fitted and maintained correctly in order for it to comply with regulations and function as intended in the event of a fire. The checklist is available to download here.
Representatives of IronmongeryDirect have also developed two comprehensive buyers' guides about fire protection and door closers, which have been added to the hub. Providing detailed guidance on regulatory requirements, key considerations and information on suitable hardware, the guides are a valuable resource to aid the specification process, representatives of the business have said.
Dominick Sandford, IronmongeryDirect's managing director, said: "The British Woodworking Federation's Fire Door Safety Week campaign serves as a vital reminder of the crucial role of the door leaf, and all components of a fire door doorset, in the protection against flames and smoke, in order to save lives. The correct specification and maintenance of all elements is critical. As an annual supporter of this campaign, we are delighted to help our customers achieve the highest safety standards with our informative resources and guides."