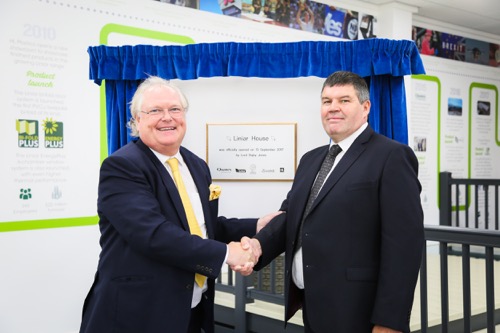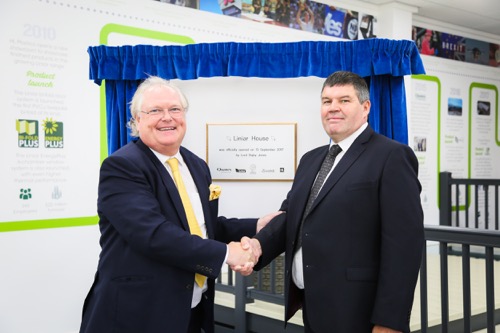 Liniar has unveiled a new 178,000ft² facility, incorporating a warehouse, training centre and showrooms in what has been billed as the latest stage in the 'incredible success story' of HL Plastics, the creator of the Liniar brand.
The new premises, Liniar House, was officially opened last week by special guest, Lord Digby Jones, former director general of the Confederation of British Industry (CBI) and business ambassador of UK Trade and Investment, who praised the 'fabulous success' of Liniar in an animated speech, in front of more than 150 guests.
Commencing the proceedings, with a giant timeline of Liniar's development providing the backdrop, HL Plastics CEO, Roger Hartshorn, said: "Liniar House will take customer relations to a new level. I am confident the strength of HL and its staff will continue to thrive with the facilities and culture we have created.
"HL Plastics now has the most integrated, well invested single site PVC-U facility in the UK."
Echoing the positive sentiments, businessman and politician Lord Digby Jones, who had toured the HL Plastics facilities earlier in the morning, praised Roger's achievements and said it was a 'privilege to share in the success' of the company.
Discussing 'socially inclusive wealth creation', he declared that 'there's nothing wrong with making money; it's what you do with it that matters', referencing Andrew Carnegie, in his suggestion that 'no man can become rich without himself enriching others'.
Emphasising the importance of a skilled workforce, Digby Jones said: "We have to train our people; again and again and again, and I do not mean PHDs and rocket science, I mean quality apprenticeships, linked with a degree. Training is so important; whatever your age. Globalisation does not take prisoners. We must be responsible for the constant training and upskilling of our workforce."
Once the showroom was officially opened, other speakers included Liniar MD, Martin Thurley, who described the new facility as one of the best he had ever been in and reassured the audience that it would be 'business as usual' at Liniar, despite the current 'uncertain times'. He also paid tribute to the Liniar 'team spirit', noting that it was a "privilege to learn from and work with Roger".
Martin, who has been in post for six months, added: "On behalf of the team, we are absolutely laser focussed on making this business successful. I am up for it 100%."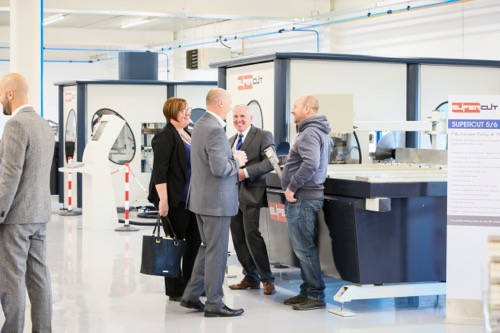 Nigel Bishop, sales director of Avantek Machinery, followed with information on some of the machinery guests could expect to see during their guided tour of the new facility, which took place after lunch. As well as the new Avantek showroom, billed as the only one of its kind in the UK and featuring a range of fabrication machinery from Wegoma, Urban and Supercut, visitors were also invited to explore the new Liniar showroom and get 'hands on' with the full Liniar range of products.