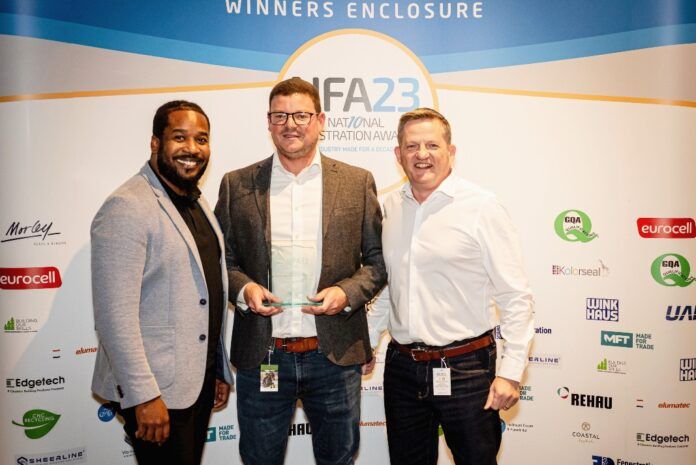 The Made for Trade team won three National Fenestration Awards (NFAs) last month. The team behind the Korniche brand took home the trophy for 'Conservatory Product of the Year' (the Korniche roof lantern), 'Bi-Folding Door Manufacturer of the Year' and 'Aluminium Fabricator of the Year'.
The NFA awards were presented at the Doncaster Racecourse on 29 October.
"Retaining the prestigious Aluminium Fabricator of the Year award for 2023 is a testament to the consistent quality of Made for Trade's service, products and fabrication," said the business' representative. "The Korniche brand continues to impress and satisfy its trade customers nationwide.
"Manufacturing and engineering development is pivotal at Made for Trade, and we take pride in our ongoing engineering and design of innovative products and services. Winning the title of Bi-Folding Door Manufacturer of the Year further validates the company's investment and unwavering efforts in perfecting the Korniche bi-folding door.
"Installers have been drawn to this product due to its remarkable ease and speed of installation, thanks to the ingenious Speedbead. This knock-in bead sets a new standard in the market, allowing door sashes to be glazed quickly and effortlessly. It also enables swift adjustments and any necessary remedial work without causing any damage to the bead or the frame. This revolutionary product sets Made for Trade apart from others in the industry.
"After an impressive six years as the market leader for the Korniche roof lantern, winning the Conservatory Product of the Year in 2023 is a true testament to its excellence and its established position in the fenestration landscape. While many competitors have emerged in recent years with their own iterations of lantern roofs, none have matched the ground-breaking advancements achieved by the Korniche lantern. Its unparalleled ease and speed of construction and installation coupled with its exceptional strength continue to set the benchmark in the industry."