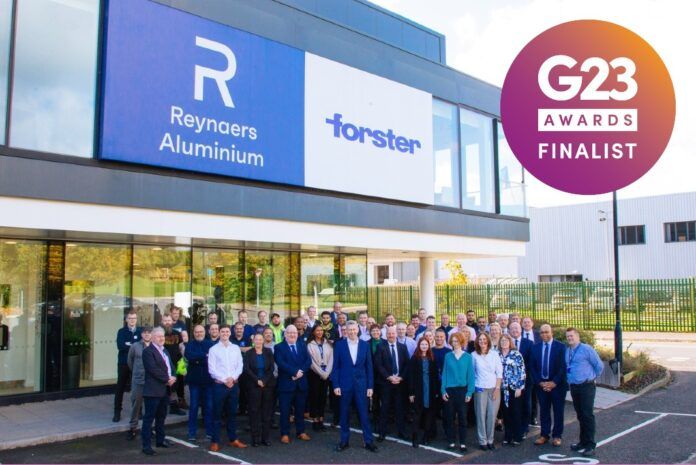 Judges of the G Awards 2023 (G23) have shortlisted Reynaers Aluminium UK to win in three categories: Sustainability Initiative of the Year, Promotional Campaign of the Year and Customer Care Initiative of the Year. G23 winners are due to be announced at a ceremony on Friday 24 November, in the London Hilton on Park Lane hotel.
The sustainability award nomination acknowledges the door, window and facades specialist' commitment to cutting carbon emissions in its own operations and the wider supply chain through the firm's Reynaers Act strategy. This includes the introduction of more cradle-to-cradle products, and creating thermally efficient systems. The business is backed by the Science-Based Targets Initiative.
The Promotional Campaign of the Year nomination is in recognition of how the Reynaers team has promoted the business' sustainability strategy. The work that the Reynaers UK team has done to ensure that customers receive a high level of service is reflected by the Customer Care Initiative of the Year nomination.
"We're delighted to have been shortlisted in three G Award categories, especially as they are categories that we are so passionate about as a company – sustainability and customer care," said Samantha Hill, head of marketing for Reynaers Aluminium UK. "Customers are at the heart of everything that we do. Making sure they receive the service that they expect, along with products that are fit for a more sustainable future, has been our focus.
"Innovation and product development are cornerstones of the Reynaers' brand. In Reynaers Act we have combined this with a pledge to support sustainable building design, to help create a better future for the people in our company, our customers and communities around the world. Sharing this message through our promotional work has been a privilege as we play our part in helping to cut carbon emissions.
"It is with thanks to the continual drive of the whole Reynaers team that we have been shortlisted for such highly regarded awards." Read more about the Reynaers UK team's work to support sustainability in GGP magazine, here. For more about the G23 Awards, visit g-awards.com.