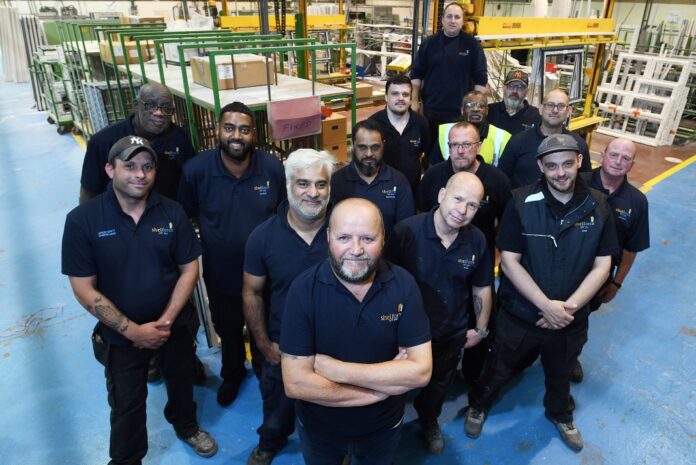 Leaders of the Birmingham-based window and door manufacturer Shelforce have announced plans to increase the number of full-time staff it hires this year, to cope with demand fuelled by continued success. The Erdington company currently has 29 staff, 21 of whom work full-time. This year the firm's leaders plan to increase permanent staff to 33.
The 12 extra roles are to include three new team leader positions. The leadership positions – a fire door manufacturer team leader, a window manufacturing team leader and a storage and dispatch team leader – are set to complement two new office staff roles that are aimed at helping improve customer service.
Since launching its fully compliant Fireshel 30-minute fire, smoke and security resistant door in 2020, Shelforce has had to increase its manufacturing capacity each year, its representatives reported. The firm is currently producing 200 doors a week. With demand continuing to rise, strengthening the team is crucial, as Shelforce's business manager, Howard Trotter, explained.
"Demand for our fire door has gone through the roof, and it's hugely positive that we will be increasing our team by 12 off the back of it," said Howard. "It's a big jump but it's one we now need to make.
"It's part of a three-year plan in terms of strengthening the team. We are hoping to follow the three new team leader roles for this year with a new production supervisor role and new operations manager role in 2024. I'm also looking forward to welcoming two new people into the office to improve our processing power, as the busier we've got the more orders we need to process.
"At Shelforce, investing in staff is huge and we want to promote internally. It is enormously encouraging that some of the team from the shop floor have applied for the roles," added Howard. "Ultimately, success breeds success and the team are vital to that."
Shelforce specialises in providing high-quality PVC-U and aluminium products to local authority building projects. To find out more, call 0121 603 5262 or visit shelforce.com.