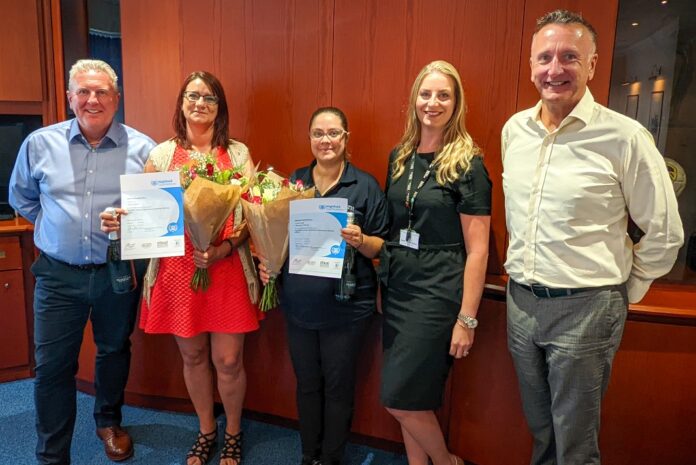 Two staff members of Hurst Doors have achieved Level 2 diplomas in customer service. Claire Gilbert, who works in the aftercare team, and business support assistant Charlotte Towle both completed the course in under 12 months. The achievement demonstrates the business' commitment to caring for its customers and investing in its workforce, according to representatives of Hurst Doors.
Training was provided by Sarah Van Der Eykyn from Ideal Training Solutions, and involved 20 units. The course aimed to cover all aspects of customer service, including managing customer expectations, dealing with conflict and challenges, understanding customer needs and operating effectively in a way that contributes both to the business and customer relationships. The training also involved observations on a face-to-face basis.
Claire, who started with the customer care team but is now in the aftercare department, said: "It was completely different to any other course I've attended, and I really enjoyed it. It helps on all levels as we're handling regular customer enquiries either by telephone or email. It gives you that confidence to be able to help customers with any situation as and when needed.
"Customer aftercare requires us to assist customers with various issues. I found the course very useful in terms of remaining calm and professional when finding a solution for customers. Hurst has really encouraged me to get to this next level. I couldn't have asked for any more support from them."
While Charlotte has a split role and predominantly works in the marketing department, she also supports the customer care team and is customer-focussed. "The course provided great insight on how to treat customers with respect and empathy," she said. "Sarah was also a great help and available to discuss ideas at any time via email or through regular meetings.
"Hurst was incredibly supportive and let me take time out of my working day to attend sessions. Staff also assisted me with putting together the evidence as required for my personal development plans."
Sarah, who assessed the duo and has worked with Hurst for just over a year helping to upskill staff, added: "Charlotte and Claire worked hard, and their knowledge was excellent. The course has given them the principles of how to approach every situation, a better understanding of dealing with customers over the phone, and a good standing to progress further should they wish.
"Hurst is brilliant; they're supportive and have provided workbooks to help and as much support as they can during observations. I can't fault them."
Hurst has encouraged staff to take extra qualifications to make sure that the company can offer the best customer care. The business has also expanded its aftercare support team.
Mark Atkinson, Hurst's sales director, said: "Our people are central to our business, and Claire and Charlotte put in a great effort. We have invested in upskilling our team so they become more efficient and effective in their roles, which in turn helps support our customers, increasing customer satisfaction and securing long-term partnerships."
Claire and Charlotte's achievements follow last month's report on the leadership qualifications gained by Hurst employees. Read more about Hurst online at hurstdoors.co.uk.