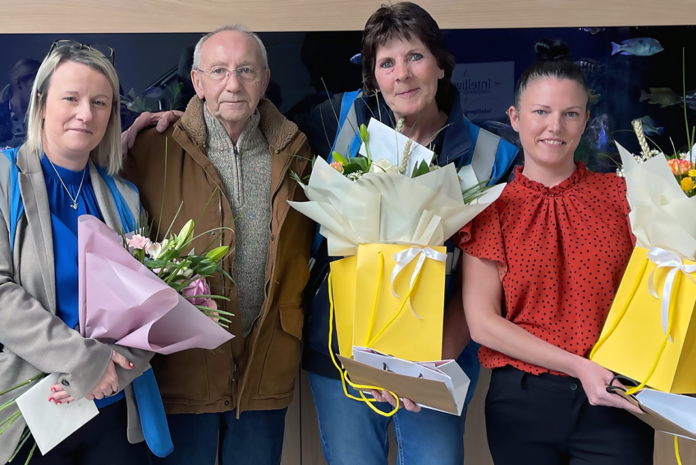 Dirk Charnock is back at hardware distributor UAP's head office in Whitefield after he suffered a cardiac arrest last month. When Dirk collapsed at work, operations director Wendy Rushton and her fellow colleagues rushed to help him by executing their first aid training.
On hand to support Wendy, first aiders Julie Greenhalgh and Lyndsey Smyth called emergency services, placed Dirk in the recovery position and deployed an on-site defibrillator. The swift actions of the team around him ensured that Dirk survived his attack and was swiftly taken to North Manchester General Hospital.
Now, just a month on, Dirk has undertaken a speedy recovery and has greeted the women that saved him at UAP's head office. Dirk is set to return to work in three months.
Dirk said: "I will be eternally grateful to Wendy, Julie and Lyndsey for being proactive and calm as I went into cardiac arrest. They saved my life and I cannot thank them enough.
"Their actions and level headedness are testimony to the culture and training available at UAP. Without the chance to undertake a first aid or defibrillator course, I may not have made it. Thank you again for all the kind messages. I am very much looking forward to being back at work surrounded by my colleagues and friends."
Wendy Rushton said: "I cannot be prouder of the team at UAP, their calm, practical response saved Dirk's life. We're all very much looking forward to having him back in the office and fighting fit."