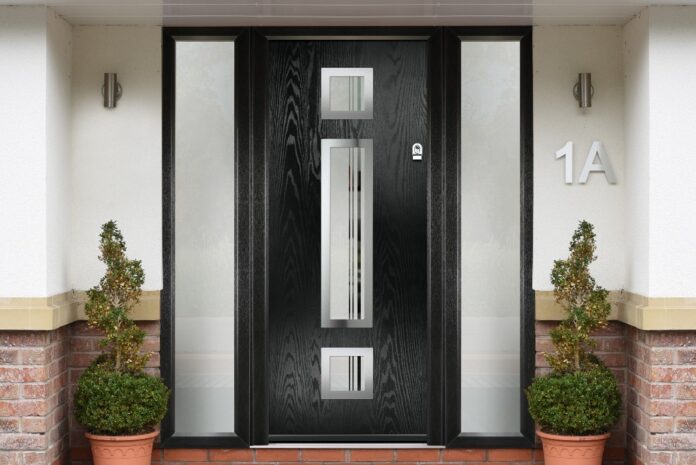 Said to offer 'incredible choice and flexibility', the new Soteria range of composite doors from Tradelink allows the specification of high-quality doors with the same style and colour options available whether a foam or solid core is selected. A new 1,500m² (16,000ft²) production facility in Mildenhall, Suffolk, provides increased capacity to support the vastly expanded selection of doors offered in the Soteria range.
Performance, security and versatility are integral to all doors developed specifically for the UK market. The diverse designs appeal to both commercial and retail sectors, representatives of the range have stated. They added that the products come with relevant accreditations, giving customers peace of mind about the manufacturing process and quality.
"This composite door is the minimal-maintenance alternative to traditional door materials," representatives of the range went on to say. "It is 44mm thick with reinforced GRP skins, finished in either woodgrain or Tradelink's unique smooth/etched finish that perfectly matches aluminium.
"The CFC-free polyurethane foam core reduces heat loss and is encompassed by a laminated veneer lumber (LVL) subframe that provides exceptional strength and rigidity. The design results in a dependable door that has minimal thermal expansion and contraction under extreme temperature variations. The foam core allows the Soteria door to achieve outstanding thermal performance which outperforms other market alternatives."
For 'the ultimate composite door', the entire range is available with a solid core that offers superior benefits, according to Tradelink's representatives. The solid Soteria doors match the aesthetic options of foam core doors but the inner core consists of three layers of cross-laminated engineered hardwood. This is encased with LVL and hardwood stiles and rails for protection against any water ingress. It is then pressed with Tradelink's signature 4mm GRP skins.
"Offering the highest level of security, all Soteria doors come with security features which meet current security standards, including PAS 24 in line with Approved Document Q. They feature Yale lockmaster mechanisms with platinum three-start cylinders as standard, and can be smart ready when selected with one of the SensCheck ready locking mechanisms.
"A wide variety of glazing options is available, to further enhance the visual impact of the doors, suiting all tastes from contemporary styling to traditional choices. Over 50 decorative glass designs and four patterned glass options are offered, all manufactured to the highest possible standards.
"Together with standard and premium colours, any RAL colour is available from Tradelink as a special order. A comprehensive range of high-quality door hardware provides the finishing touch." For further information, visit tradelinkdirect.com.