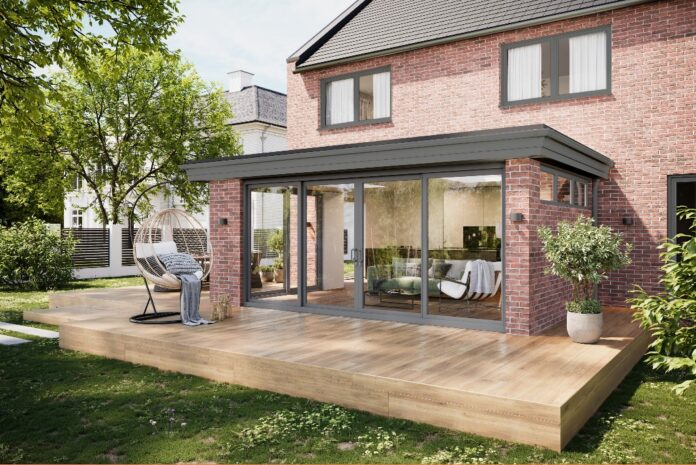 Ultraframe's flat roof system is now even faster to project manage, its creators have reported, thanks to Assent and JHAI building regulations approval. Flat roof users can now choose to work with either Assent or JHAI to carry out building regulation approvals, as an alternative to working with local authorities. This means that builds can begin sooner and that the process is hassle-free, according to Ultraframe's representatives.
Alex Hewitt, Ultraframe's marketing director, said: "We are delighted to have achieved Assent and JHAI approval for our flat roof system so soon after launch. Both companies are highly respected and have handled many thousands of building control applications. Both Assent and JHAI have fully reviewed and approved the flat roof system and all of its technical documentation, to ensure that approvals are speedy and hassle-free."
Assent is a Corporate Building Control-approved inspection business that works to industry codes of conduct and building control performance standards, working hand-in-hand with its clients to add value to the building control process and make sure projects run as efficiently and effectively as possible. Assent's building control surveyors are located throughout the country with expertise and experience across the entire building sector.
JHAI is an approved inspector, licensed by the government via the Construction Industry Council. The company provides building control for all types of building projects and has carried out more than 17,000 approvals this year alone. JHAI aims to make projects easier while saving money for builders and installers. Its work covers England and Wales.
Installers or builders wanting to attain a building control certificate for Ultraframe's flat roof need to notify Assent or JHAI about the project with copies of the plans. The chosen company is them to notify the relevant local authority and carry out any necessary inspections before issuing the final certificate.
As the flat roof has been fully assessed and approved by Assent and JHAI, this process is speedy and simple for the installer, according to Ultraframe's representatives. Achieving the certificate via building control is a considerably lengthier process, they say, as installers are required to collate and submit various technical documentation, possibly with additional structural calculations, for assessment. This often takes weeks or months, they added.
The flat roof is an ideal choice for new-build extensions and orangeries or conservatory transformations, Ultraframe's representatives have said. Marketed as 'the strongest flat roof system available', it can span up to 5.6m unsupported, without the need for costly additional steels. It can also support rooflights up to 5.7m x 3m.
Despite its strength, the system is also marketed as 'the lightest flat roof on the market', at just 51kg/m². This makes it easy to manoeuvre on site, they say.
As with all Ultraframe systems, there are a wide range of options to personalise the flat roof, including a choice of fascia designs, any RAL, compatibility with any roof or membrane and a choice of zero, one or two apertures. Energy efficiency was a key concern during the design, so the roof offers a U-value of just 0.12 thanks to a number of features including 225mm insulation.
To find out more about the flat roof system, the ease of assent and JHAI approval, visit Ultraframetrade.co.uk. Read more about Ultraframe's Ultrasky flat skylight, here.