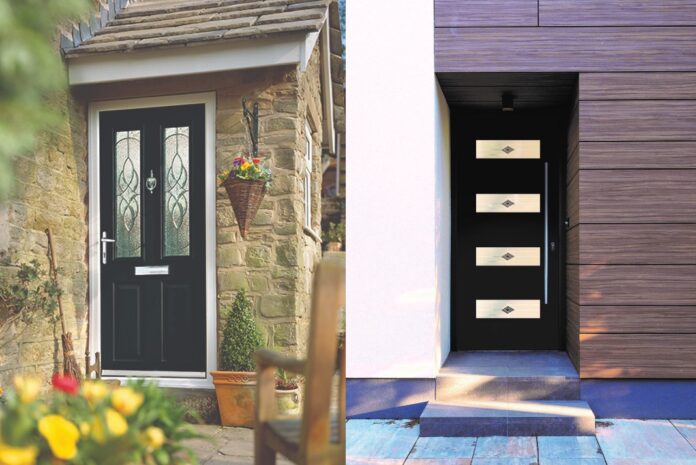 The Hörmann UK team is to exhibit the company's full range of entrance doors at this year's Fit Show, at stand P21 in hall nine. For the first time, the stand is to feature composite doors – manufactured by Hörmann's sister company, IG Doors – alongside the firm's steel and aluminium product range.
In an important move designed to develop a one stop shop approach, Hörmann UK is to supply the Truedor range through its sales organisation, which should enable the company to offer a solution for each sector of the market: Hörmann Truedor (a 'competitive' composite door), Thermo 46/65 (a mid-range series of steel doors) and a premium-positioned aluminium option.
"The recognised Truedor range offers installers a comprehensive selection of composite doors now backed by the Hörmann brand and support," said Hörmann's representative. "With over 30 years of experience in the manufacture of composite doors, IG Doors produces the Truedor range from a high-tech facility in Blackwood, south Wales. IG Doors is the only supplier of GRP composite doors in the UK to manufacture their own door slab.
"Selling under the Hörmann Truedor brand, installers can expect to have access to a range of high-quality entrance doors, available in an extensive choice of designs, styles, colours, glazing options and accessories. Featured on the Fit Show stand will be a selection of doors representing some of the most popular styles and colours in the market, together with the new Clima63 thermal door range with a 63mm door slab, offering excellent thermal insulation properties.
"Hörmann's high-performance range of Thermo46/65 steel and aluminium entrance doors offer good looks and exceptional security, alongside impressive U-values as low as 0.87 W/m2k. Manufactured from high-grade components and featuring high-security locking systems, the range features an extensive choice of styles, accessories and finishes for the discerning end consumer."
Also new on the stand is to be the ThermoSafe Decoral door, a new addition to the Hörmann range of aluminium doors. Thermosafe Decoral offers the combination of a high-quality, secure aluminium door together with a selection of new, modern décor finishes and door styles, the business' representative explained. The Decoral finish is applied to the powder-coated surfaces of the ThermoSafe door using a patented coating method which results in a 'beautiful, colour-fast and detailed appearance'.
The range offers five new finishes – cement, rusty pantina, wild oak, barnwood and barnwood grey –with 18 exclusive door styles. Supplied with a standard frame in jet black, the ThermoSafe Decoral door is also available with the exterior handles and embellishments in jet black, or in one of the Decoral colour options to match or contrast.
David O'Mara, Hörmann UK's marketing manager, added: "The Fit Show is a really exciting time for Hörmann as it provides us with the ideal opportunity to announce our entry into the composite door market. The Hörmann Truedor range complements our existing range of products, meaning that  we can now offer a door for each price point in the market, all backed by the Hörmann guarantee of choice, quality and service."