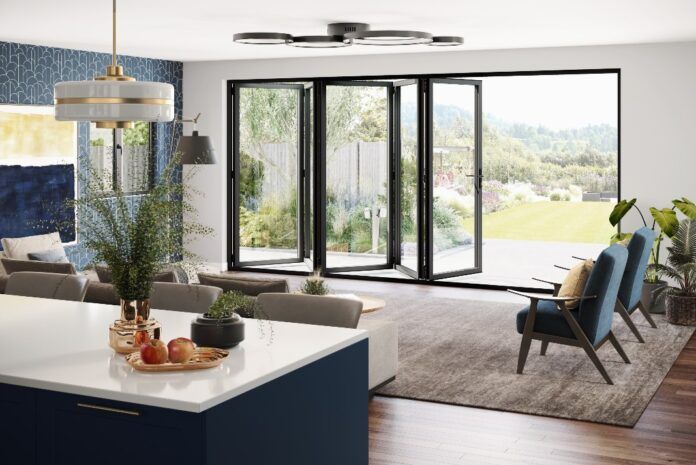 Leaders of Mercury, a specialist fabricator of PVC-U and aluminium systems, have signed a three-year supply agreement with Epwin Window Systems to manufacture the Stellar Slimline aluminium bi-fold door. Mercury is a longstanding fabricator of Epwin Window Systems' vertical sliding sash window system, and the team has enjoyed a 20-year tenure with the systems house.
Katrina Earl, Epwin's sales director, welcomed the news, and said the Mercury team's "commitment to product excellence and extensive aluminium fabrication experience makes them an ideal partner to bring the Stellar Slimline bi-fold door to even more projects nationwide". She added: "The addition of Stellar to Mercury's portfolio not only marks the strategic expansion of our offer but stands as a testament to the strength and value of our relationship. We are delighted."
The Stellar Slimline bi-fold door is popular for its design, performance and slimline aesthetics, according to Epwin's representative. Features include a slim meeting stile (117mm wide). Installation is straightforward due its pre-gasketed knock in beads, and an adjustable locking stile allows ease of adjustment on site, eliminating the need for adjustable door jambs.
The polyamide thermal break technology used for the Stellar Slimline bi-fold door delivers low thermal conductivity, which ensures that the door is highly insulating. The product exceeds the requirements of the 2022 Part L building regulations by achieving a U-value of 1.3W/m²K with standard 28mm double glazing and 0.9W/m²K with 44mm triple glazing.
Steve Cross, Mercury's director, said: "We have enjoyed a strong partnership with Epwin Window Systems over the years and we are delighted to be adding the Stellar Slimline bi-fold door to our range. Adding Stellar complements our existing aluminium offering and reinforces our commitment to providing our customers with the best fenestration solutions available today." Read more about Epwin's systems online at www.epwinwindowsystems.co.uk.