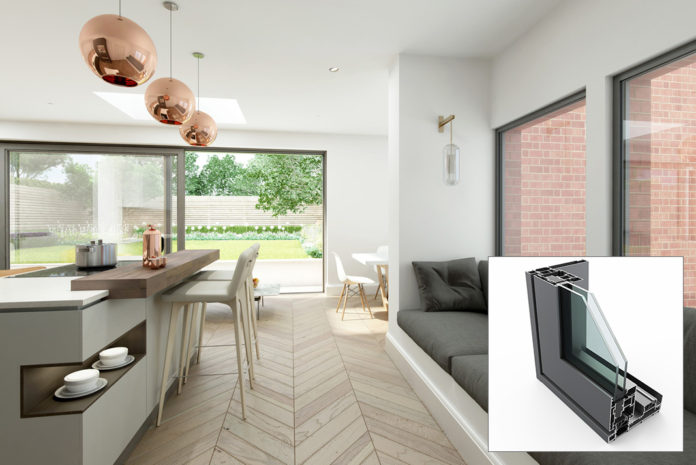 Senior Architectural Systems has added further choice to its range of aluminium residential patio doors with the launch of the new Pure Slide SL – a slimline version of the company's patented sliding door.
Developed to meet the growing demand for slim profile aluminium systems that offer wider views and maximum daylight, the new Pure Slide SL features a narrow 50mm interlock. Despite boasting an interlock design that is nearly half the width of the standard Pure Slide door, Senior claims the new Pure Slide SL still offers 'exceptional thermal efficiency, security' and is available in the same large spans and weights
The new Pure Slide SL aluminium door can reportedly achieve 'U'-values as low as 1.08 W/m2K when calculated as a CEN Standard door. As well as remaining compliant with the security requirements of PAS 24 and being fully weather tested, the new slimline sliding door is available in both inline slide and lift and slide configurations.
Senior's in-house powder coating facility allows an almost unlimited choice of colours both inside and out. The new Pure Slide SL aluminium door is also available with a choice of chamfered and square beads or a combination of the two. Precision engineered so the sliding door effortlessly glides open, the new door option has, like all of Senior's products, been expertly developed to be both easy to fabricate and install.
Senior's sales director, James Keeling-Heane, said: "Our residential product offering continues to go from strength to strength and in response to the growing demand for slimmer sliding doors that offer larger glazed areas and uninterrupted sightlines, we are delighted to add the new Pure Slide SL door to our range. We have made sure that we have plenty of stock already available in our warehouse so our customers can take advantage of this new product offering as soon as possible."
"Of course, the standard Pure Slide SL including the heavy-duty lift and slide option will remain available for projects where a more robust or higher traffic option is required. We're committed to giving our customers what they want, when they want it and with the new Pure Slide SL we are doing just that!"