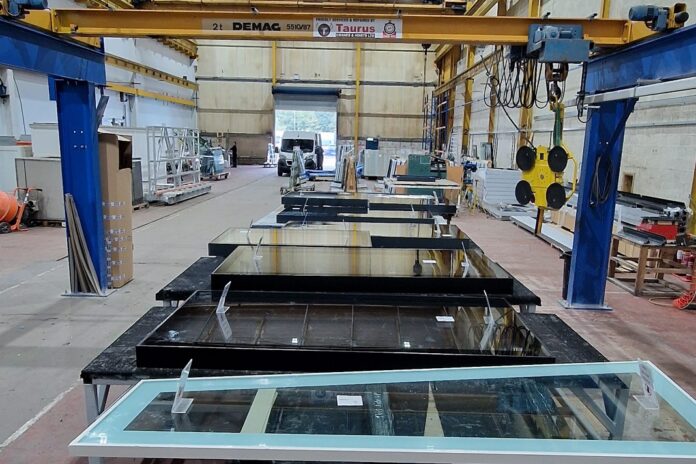 Leaders of TuffX have extended their factory by 10,000ft, making room for new machinery to support the ongoing growth in production of its popular Infinity roof lights range.
The Knowsley premises has expanded into an adjoining unit, and the additional space is dedicated to the production of Infinity products. The premises was increased to meet growing demand for the leading toughened safety glass specialist's range of roof lights, walk-on units, fire-rated walk-on units and roof lanterns.
As part of the expansion, in what will be a £1m investment in total, the TuffX team has purchased new machinery to support its growing output. This includes a new TK heat soak oven and a Dip-Tech digital printing machine, which will be used not only to print opaque borders onto Infinity glass products but also to allow patterns to be added to other TuffX products, such as personalising balcony glass with company logos, for example.
TuffX's leaders have also purchased a fourth Bovone straight line edging machine, which is used to finish edges on popular processed glass products such as balcony and balustrade glass, at varying thicknesses. This machine will go into the original factory site where more space has now been created after the relocation of Infinity's production.
"Demand for our infinity roof lights has grown year on year since their introduction, as they've proved popular with homeowners and installers alike, thanks to their easy 'straight from the box' installation," said Paul Higgins, TuffX's commercial director.
"Demand for laminated glass has also grown, due to the popularity of glass balustrades and balconies in both commercial and residential properties. So increasing our premises will ensure we have the room and equipment we need to meet these demands.
"Our factory expansion is the latest part of our planned schedule of ongoing investment which has included more machinery, space, staff and fleet vehicles, so we can ensure we have what and who we need to make sure our specialist products get to the people who want them – on time, anywhere in the UK, all produced and delivered with the consistently high quality our customers know to expect from us."
For more information about TuffX, visit the company's website.